The co-founder of Bhawan in Delhi suggests we step away from Jama Masjid and Nizamuddin. The best street eats are had by locals who live in the less commercial Zakir Nagar, none of which 'are nice places to sit in, they're all dingy spots with a bench'.
All you need to know about Zakir Nagar by Chef Rahul Dua!
Here's are all the locations on our enthumaps.
1. NIHARI & PAYA AT MADINA HOTEL
There's a lot of marrow to be found at Medina, if you get there before 9pm, by which time it's all scooped out by early enthusiasts. "I like it because this nihari is lower in spice," says Dua. "Nihari is not supposed to be spicy." To go with the collagen-rich meaty curries are puffy, evenly charred rotis made in a huge tandoor that's set in stone. The rotis, and the speed at which they make it, is what brings the meal together, he says.
Address : 6, Main Road, Zakir Nagar, New Delhi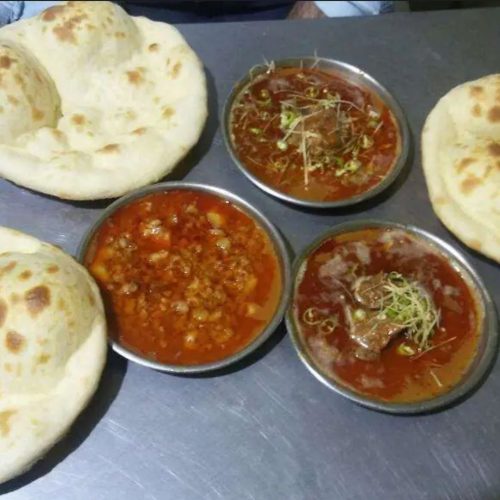 2. BUFF BOTI KEBABS AT TALIB
There are 20 stalls across the Zakir Nagar area for buff botis, and Dua always heads to Talib. Here, the clear advantage of being a loyalist is evident. "Form a relationship after going there a few times, and you can convince him to cook it the way you like it," says Dua. "Ask him for chikni boti, which is the not fibrous part of the meat."
Address: 143, Jogabai Extension, Zakir Nagar, New Delhi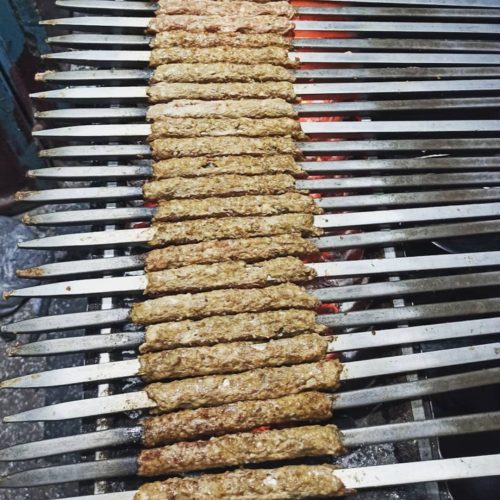 3. GALOUTI KEBAB AT LUCKNOW GALAWATI KEBAB
If it wasn't already evident from the name, Lucknowi makes only one item, and makes it really well.
"Only buff galouti on ulte tawe ka paratha, made on a five-feet wide pan, 100 kebabs at a time," says Dua. "And they're always busy."
Address : 8, House 57, Lane 12, Main Road, Zakir Nagar, New Delhi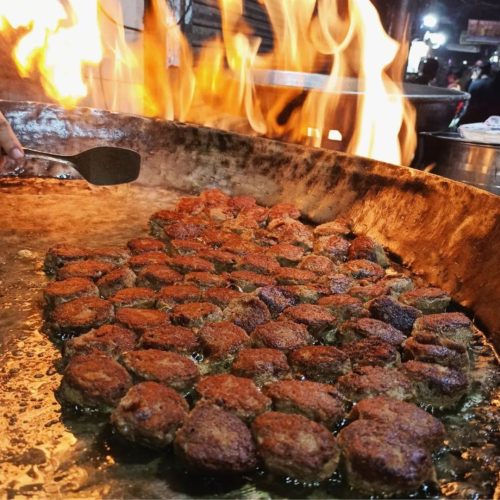 4. BUTTER CHICKEN AT AFSAR CHICKEN POINT
Afsar may be inspired by Aslam Chicken Point in Jama Masjid, but Dua doesn't care. It's his spot for a 'butter chicken' which is not quite butter chicken as we know it. "It's tandoori chicken, chopped, put into a bowl, topped with masala and pure melted butter, then all of it is mixed together," he explains. For diners feeling really fancy, there is special butter chicken, where tandoori chicken, dahi, cream, butter, and masala are tossed together. "It's a curry made a la minute."
Address: 395/A, 3, Zakir Nagar Main Rd, Jogabai Extension, Zakir Nagar, Okhla, New Delhi, Delhi 110025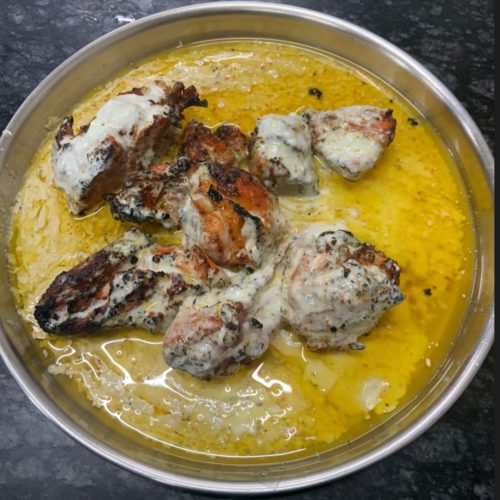 5. HALEEM BIRYANI FROM THE CART OPPOSITE AFSAR CHICKEN POINT
Haleem is seasonal, but this cart serves a shorthand, everyday version, meant for a quick daily meal, year round. "It's more a dalcha or a dal khichda than a haleem, poured over plain biryani rice, along with masala and birista," says Dua. "It's not gourmet, it's a quick one-pot, easy meal." There are a few carts and restaurants selling their versions in the area, but Dua says it's worth our while to go to his guy.
 Address: 395/A, 3, Zakir Nagar Main Rd, Jogabai Extension, Zakir Nagar, Okhla, New Delhi, Delhi 110025
6. SHAHI KHEER AT ASHRAF SWEETS CORNER
"For dessert everyone [in the area] goes to Ashraf Kheer Shop." says Dua. "He sits inside the boundary on a corner of the Jama Masjid mosque in Zakir Nagar (not to be confused with the other Jama Masjid) and passes stuff through the fence. There is no kitchen, it's just a dispense area.
"We always eat the shahi kheer which is kheer topped with rabdi. He also has shahi tukda, phirni, all the usual suspects. but all really done well."
Address: C205, Zakir Nagar Market Main Rd, Jogabai Extension, Zakir Nagar, Okhla, New Delhi, Delhi 110025
7. HOT MILK AT PEHELWAN JI LASSI CORNER
In Delhi, there is hot milk in the winters. For those of us not familiar, here's what hot milk Delhi-style means: doodh in a 30-litres handi being gently warmed through the night, the edges of the liquid caramelising, its golden brown and buttery edges being stirred in continuously. "It's starts going in the direction of rabdi," says Dua. "Hot milk is available on cold winter mornings only, and it's always drunk out of a clay kulhad."
Address: 143, Zakir Nagar Main Rd, Jogabai Extension, Zakir Nagar, Okhla, New Delhi, Delhi 110025