Let's not look at restaurants as places to merely eat – they are where some of our deepest emotions and experiences come alive, and reside, says designer Ayaz Basrai.
My first EVER memory of a restaurant was in the early 80s, waddling into Flora, on Worli Naka, holding onto my parents' fingers. Flora, which opened in 1967, was the only place my parents went out to. To my seven-year-old eyes, barely glimpsing the scene above the table, being in a restaurant for the first time was an experience beyond bizarre.
I may as well have been in outer space.
Being in Flora that night was a night of firsts. I sank into a plush couch for the very first time. I remember staring at the red lightbulbs for ages, fascinated that a bulb could be red. Large golden dragons roared on the ceiling. I had my first ever taste of the strangely pungent soy sauce, over-sour fermented cabbage, and a host of alien flavours. The meal wasn't just the share of food in front of me, it covered the table from end to end, further than my eyes could see. I tasted a crispy wonton, dipping its corner nervously into them.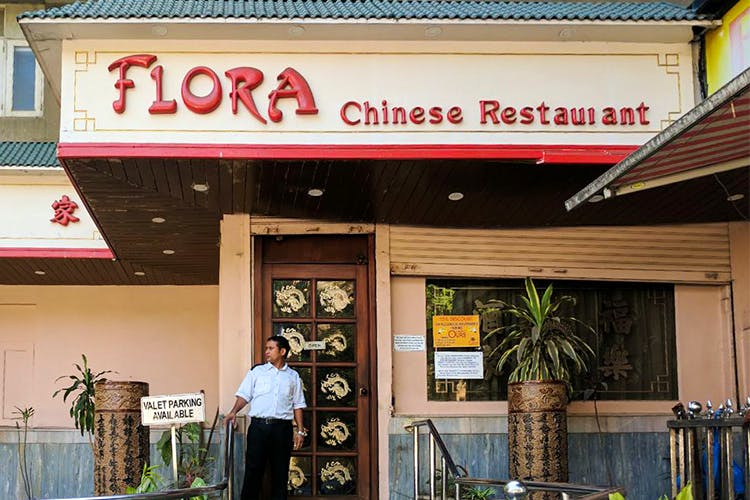 Crispy noodles arrived at our table for the two kids seated at it. Sizzling sounds could be heard from the table to our right, and I saw a puff of smoke as the dish was set down. My first ever taste of a sweet corn chicken soup was at Flora. I remember trying to draw the golden dragon from the ceiling in my sketchbook. Over and over again. Everything was magical, everything was alien and everything was mind blowing.
For kids growing up in a Bohra home, a meal was a fairly practical, frugal affair. We typically sat around a thaal, wearing our topis, sharing everything. But in this restaurant, it was theatre.
While thinking back to our first ever experiences of eating out, we are reminded of the magical transformative potential of the restaurant experience. Many millennia ago we discovered the power of sitting around a fire, sharing stories, and a meal. The communal nature of eating is one of our most primal experiences as a species of storytellers. Every world culture has evolved an incredible, amazing palette of nuanced experiences around this simple act. A restaurant then, is a living breathing entity beyond its décor, food, and service. A restaurant is above all a venue for powerful storytelling.
The primal experience of sharing a meal in a warm cave all those centuries ago has led to us now sharing a table at a new city restaurant. What then can we, sitting at the end of a millennia of communal eating, contribute to the richly storied act of breaking bread together?
A very important and significant first step for anyone involved in running, operating or conceptualising a restaurant is to develop a deep respect for the field. To call a restaurant a collection of walls, equipment, services and furniture is to call a poem a collection of alphabets. We need to truly believe that a meal can change your life.
A flavour can tear you up. A conversation across a candle can make you fall back in love. If we're able to believe this, then a restaurant is as powerful as any venue of congregation. Too often in the trade of design we hyper-ventilate about the technicalities, the budgeting, the services that power the beast. We forget the poetry.
How can this powerful stage change the lives of 300 people each day? What can we tell our captive audiences that might turn them on to the magic all around? Can we bring our guests closer to their own childhoods? How can we help them be more informed, more inspired, more alive with a meal?
What memory anchors can we build in, to power nostalgia? What stories can we bring in from the city – from its culture and music? From its art, from dance, from all its subcultures, from the living and throbbing metropolises that surround it?
In our own work, we realised the deep potential of telling stories sitting up on a ladder. In an act of 50 per cent stupidity and 50 per cent stupidity, we thought it'd be cool to hand-illustrate an entire restaurant. This resulted in the very first Smokehouse Deli, in Delhi.
The idea for the SHD sort of began in parody, with an idea to raise a finger to what was then seen as 'unserious' restauranting, funded by 'serious' money.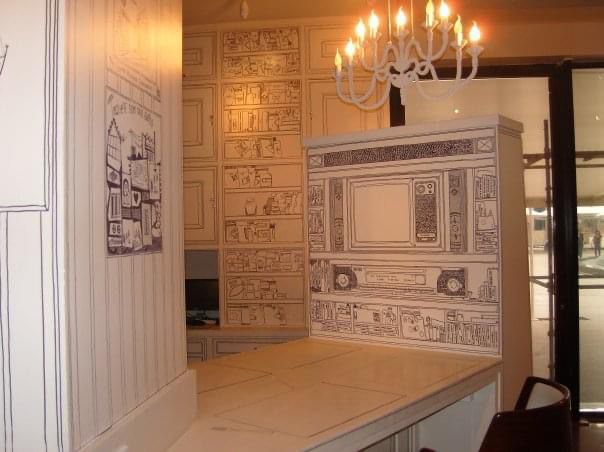 Stuck up on a ladder, bolstered up by copious amounts of Red Bull, I realised that we were sitting on a massive canvas for storytelling. How may we then bring the restaurant alive? The faint threads of storytelling started emerging while drawing the very first label on the very first audio cassette on the very first shelf on the very first white wall. What should this guest be listening to sitting here? Where has this person (whose mind I was now inhabiting) travelled to? What did she smoke? What was lying on her bedside table? What inspired her? What did she hate about the city she lived in? What books adorned her bookshelf? The answers to these first few questions set in motion a process that only ended for us ten Smokehouse Delis, 12 tubes of Vollini, over 500 markers and eight years later.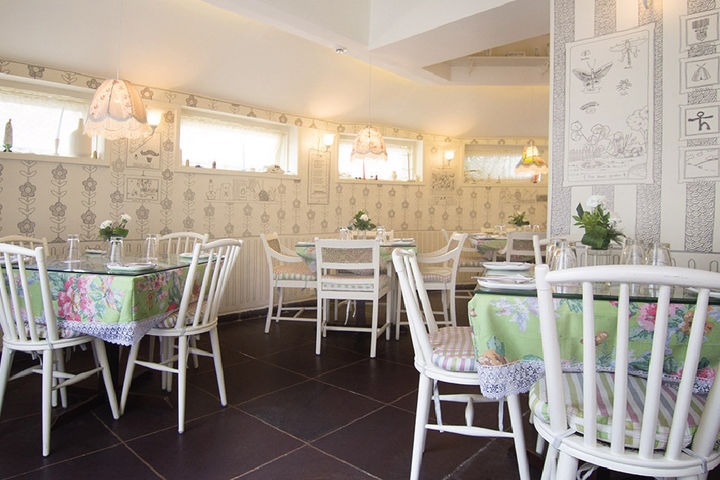 In another related incident, we were confronted with a dark, dank basement in the Promenade Hotel's underbelly. This was the proposed site of a brand new venue for the hotel. How do you fall in love with a new city? You walk the city with someone so smitten with it, that the love rubs off. We then lured Dilip (Dilip Kapur, the owner of the popular craft brand HiDesign, and the Promenade Hotel) into a series of long, leisurely walks around Pondicherry.
Those walks around Pondicherry, the stories of his childhood spent around the Ashram, the city – with them, his muse came alive. His longtime love affair with Pondicherry somehow left us with a whirlwind of ideas, textures, colours and stories. Every corner and every street had a well-known, little-known or completely unknown tale attached to it. They spanned him and his friends, city personalities and thugs, ghosts and apparitions. It was a mind-bending, hilarious, personal roller-coaster ride through the ages of an incredible city.
What we took back was a medley-like moodboard: of elegance and poise, of refinement and class. It was a violent mix of Tamil and French influence which has resulted in one of the nicest crossroads of culture on display in India today. This medley is what we then tried to find a home for at the new The Storyteller's Bar.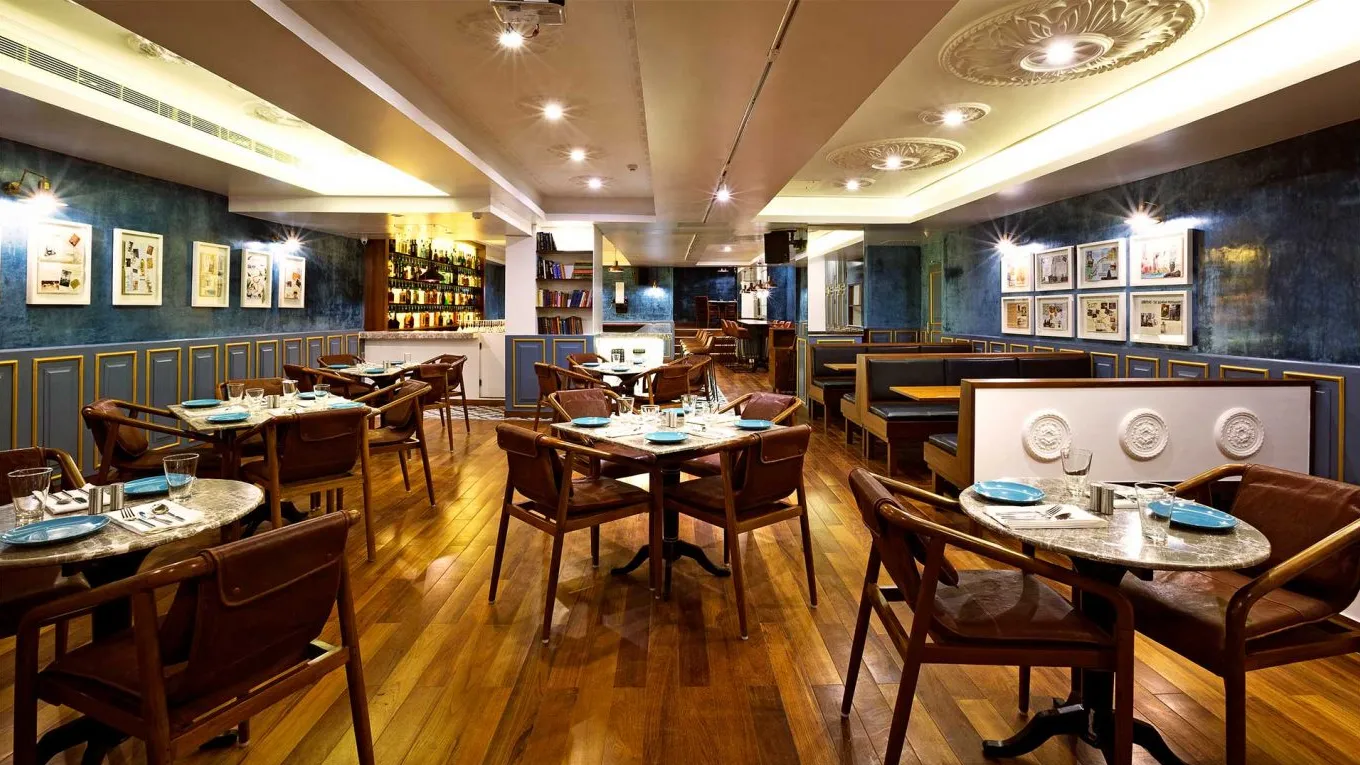 What happens when we think of restaurants as stories? Which are the stories that left an inedible mark on our childhoods? What stories seemed sculpted in fine words, but contained nothing memorable? What stories stayed with us? What stories made us feel inspired, what stories made us weep? What stories do we tell others proudly, making them our own? What stories help us overcome cultural myopia, and remind us of the ways we were?
We live in increasingly hectic, trend-driven, social media-powered times. Restaurants can stage a powerful counterpoint to the myopia induced by social media consumption. They can reframe their presence to offer nuanced and detailed stories through their décor and ambiences.
In allowing deep research and storytelling to enter the selection of décor elements, we neatly sidestep the usage of trending cliches, overriding purely aesthetic design decisions. Aesthetic cliches tend to work as short fluff stories without any deeper resonance. By asking deep questions about what stories we'd like to be surrounded by, we have an opportunity to create a progressively moving cultural movement. The restaurant can become a point for staging a cultural renaissance. In a time of deep distrust, hostile city environments and increasing polarisation, a restaurant can tell stories of a time where cultures mixed freely. Politics and pre-conceptions are left behind, yet they mix promiscuously on a plate.
The restaurant is the best of us.
The restaurant will save our souls from the worst of us.
The restaurant is the story we need to hear right now.

We hope you enjoyed this original essay on how Restaurant design is storytelling, brought to you by enthucutlet.