A dispatch from Borivali West
Some say the world will end in fire, some say in ice. But in Borivali West, you could choose which way you prefer. The little row of food carts at Chamunda Circle, alongside Ganjawala Park in the neighbourhood, have reportedly been there at least for five decades. Through them, the carts have sold classic Bombay Street snacks like bhelpuri, sev puri, pani puri, and ragda pattice.
I visited one December evening last year, just as the streets of nearby IC Colony, Borivali's famed Christian neighbourhood were being festooned with Christmas lights. All around me, young women were perched on their scooters eating lurid shaved ice golas. Homebound commuters had stopped for an evening snack, balancing briefcases in one hand and gol gappas in the other, clusters of young people were beginning to gather, a signal to the upcoming snack-time rush hour.
But since Borivali is a Gujju, as in G-U-J-J-U, these carts are also home to a dizzying list of innovations, of which the most famous is the fire sev puri.
I ate it at Mehul Shreeji Ice Bhel, listed under a section called Fire Shots — featuring options with names like Extravaganza, Mexican Fuski and Hot Dilkhush Puri.The fire sev puri's only connection to the mother recipe is the crispy puri, which forms the base on which potatoes, onions, sev, chutneys, and garnishes are assembled. After this, a Bombay street food phenomenon I like to call the "Leaning Tower of Pizza" — which consists of corn, paneer, bell peppers, a kind of thousand island dressing, and Rajkot chutney (made by grinding flaxseed, ghatiya, herbs and lemon) — is added to that base. . Then comes the signature ingredient, the Amul cheese mountain — which descends like speedy snowfall on it all. And then, this contraption is bound together with fire, using a blowtorch.
When I ate the fire sev puri, my judgment of it was that it was neither good nor bad. The union of mayo and cheese was salty and creamy in texture; with occasional suggestions of oregano, chilli, and corn. As a visitor to the stall said to me, "It's a novelty item madam. Can eat once. But for everyday eating, I will choose the usual sev puri-bhel puri only." And so, after one try, I moved on to the stall's other speciality, the ice-bhel, which is made with frozen chutneys. The ice-bhel was excellent, the iciness emphasizing the tangle of sweet, sour and spicy flavours. These were all familiar culinary pleasures; but with a glamorous makeover.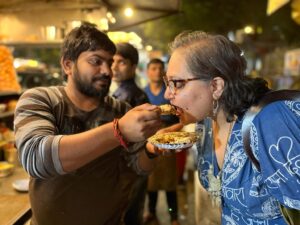 Since these are the streets of Bombay, afterall, There is some controversy surrounding the origins of fire and ice bhel. It surrounds the fact that an erstwhile stall called Pooja Ice Bhel and the current stall, Mehul Shreeji Ice Bhel both claim to have invented it. But during the pandemic, Pooja Bhel closed down. And Suraj (an appropriate name for a fire welder!), the personable young man who insisted on feeding me the first fire sev morsel with his own hands at Mehul Shreeji Bhel, assured me the dish had been invented by Mehul Bhai, the stall's owner.
But with street food, like with street slang, who can say where it began? Even if you found the inventor of a dish, you cannot get a straight story on how it evolved. Yeh uska style hoyenga, as they say. Bombay's street food is like all its style, and language— flamboyance is key, chutzpah is compulsory, entertainment must be guaranteed. You can hear it in th the city's salty slang, which mixes several languages at a time; the swagger of print-on-print outfits, the stacked shelves of small shops, from which sanitary napkins, olives, jamun chutney, nylon sev and mobile khakhra (because it's shaped like a mobile phone), all emerge as if part of a magic show. In a city of hustle, Bambaiya style is about gestures of abundance, transformative glamor claimed by tapori and film star.
Like all this, Bombay's street food too holds a history of desire and distance, enterprise and exuberance. The bhel family of chaat evolved from the migrations of the 19th century – when the Gujarati sev and ghatiya met the North Indian murmura and minty chutney, topped with a seasonal dash of local kairi.
Like its original version, the fire sev puri too represents Bombay's migrant self. It reminds us how Gujarati Bombay is a composite of innovation. Take those vegetarian versions of international snacks that trading communities have popularized in Bombay; from rajma tacos to Jain pizza. But in some ways, the fire sev puri is the opposite of the bhel family of chaat. Where bhel traveled up from the working classes, fire sev puri trickles down and condenses the ideas of "international cuisine" into one item.
Everywhere in South Asia, chaat usually combines intense, playful tastes – the sweetness of dates, the tartness of tamarind, the bite of red chillies, the garrulousness of rock salt and the muscle of roasted cumin, all rolling into a tongue-teasing melee of multiple umami. The words related to chaat – chatpata, chatkhare, chatni – evoke the tongue chasing for, and wanting more. Chaat is a world made up of desire. And the fire sev puri takes it further – assembling the notion of Mexican dishes, Italian cuisines, and Masterchef-style blowtorches into one dish. But where chaat allows many flavours and textures to coexist, the fire sev fuses them into a somewhat indistinguishable unity.
It is a dish from a world of aspirations, rather than a cosmopolis of desires.