India is the largest producer, consumer, and exporter of chillies in the world, and we're finally building our own repertoire of ways to deliver them deliciously. 
Are you a heat-seeking chilli head? No no, not the kind who wants to be slayed by Scoville Heat Units, but the sort who prefers being floored by nuance, by flavour, by a condiment that you want to spoon it over anything, or eat by the teaspoonful to meet that compelling endorphin rush?
Here are six love letters to desi delights (in no particular order) that make me go check, check, check.
1. Sichuan Chilli Oil by Chili Pepper Madness
I can eat this chilli crisp by the spoonful. And I have. 
Here's how it typically begins – I start by making gooey scrambled eggs in a shallow pool of this crunchy, tingly oil. I then top the eggs with crumbled feta, and then lay these eggs on wilted greens and garlic-marinated charred cherry tomatoes. Over all of this goes a couple of tablespoons of Sichuan chilli oil. It's a superb meal. When I'm done eating, because I want more of that perfectly balanced, umami-laden, slightly sweet, very addictive chilli oil, I have a couple of more spoonfuls for "dessert". 
Get it here. Know more on Instagram here.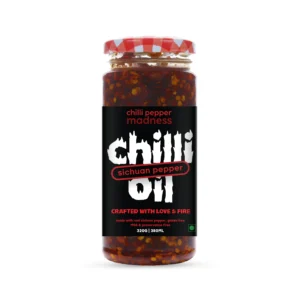 2. Kerala Hot Sauce by Ishka Farms
White kanthari (or kandari) chillies and I go back a long way. I first fell in love with them thanks to a Kottayam friend a decade ago. My relationship with these tiny terrors improved significantly as I got to know them better with Sheila's Kandari Pickle. My deal was sealed with these nubs of flavour thanks to Ishka Farms' deeply savoury Kerala Hot Sauce. It's made with kanthari, capers, green peppercorns and caper brine. Sandwiches, wraps, soup, a drizzle on sabzi or dal, mixed into raita, in a salad dressing, I've used this in all sorts of ways. What does this sauce not go with? I'm still waiting to find out. 
Get it here. Know more on Instagram here.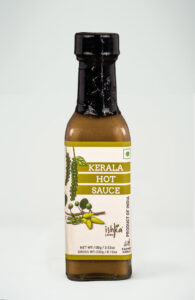 3. Phantom Hot Ketchup by d'alive
I came across Phantom Hot Ketchup via The Farmers' Store app, and ever since, it has always been there on an eye-level shelf in the door of my fridge, promising to make boring foods better. I have added it to tomato-rich Sindhi vegetable gravies, I have made devilled eggs with only this as the flavouring, I have poured it on fried chicken, I have spiked beetroot soup with it. D'Alive's website says this sauce is 'organic, vegan, gluten free, sugar free and keto friendly'. To me, the loveliest thing is it employs bhut jolokia to gorgeous effect. That other popular hot and sweet sauce once I loved is all but forgotten. 
Get it here. Know more on Instagram here.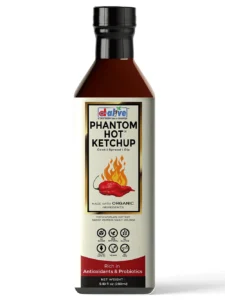 4. Spicy Jalapeno by Foo
In March this year, Foo Asian Tapas had another Fiery Edit Menu where they offered limited edition hot sauces, including a habanero one. They were all glorious, but we're still glad for one unlimited constant joy – the fresh, bright, verdant sauce that arrives in a little condiment caddy on every table at each of their outlets at the start of every meal.
Spicy Jalapeno is also available by the jar online, and as the one green sauce on this list, it has a really special place in my pantry. Most green condiments in India go in the direction of chutneys; Foo's does not. It's more like an Asian salsa, a spot of warm grassy sunshine on a dish. 
Get it here. Know more on Instagram here.
5. Koji Hot Sauce by Brown Koji Boy
Chana dal koji, Teja chillies, coconut vinegar – just thinking about this combination now makes my mouth water. Prachet Sancheti, a.k.a. Brown Koji Boy's Koji Hot Sauce is the fermented hot sauce that shows us how nuanced fermented hot sauces can be. It elevates noodles and rice for sure, but I've also slathered it on buttered toast, in an egg wrap loaded with kachumber, in a cold cucumber salad, on sweet-savoury chocolate French toast even. In rasam, it's a revelation. 
Get it here. Know more on Instagram here.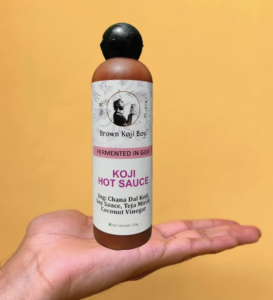 6. Hot Sauce Comfort Jar by Kisano Farms
Don't order Kisano's hot sauce if you want the same old sauce every week. Co-founder Benjamin Zehr has built a hot sauce that is a collaboration between nature and technology, skill and whimsy. This chilli sauce might change every week, depending on the chillies (or tomatoes) that were harvested when it was time to make a fresh batch. Every bottle looks different in colour, it's named differently, it feels different, it tastes different, and it's always so madly delicious, a bottle barely lasts a week  at our home. This is exactly why I love it – it's a little surprise gift to myself with every Kisano Farm Box I order (and always add it to). Here's a super fresh, clean-label, handcrafted, hot sauce that still feels kinky. 
Sign up for Kisano's farm boxes mailer list here or message them on Whatsapp at +91 74993 71781 to join their broadcast list. Know more on their website and on Instagram. 

We hope you liked this enthuGuide to 6 must try Hot Sauces in India, brought to you by enthucutlet.