The tart, zesty berry of Ukhrul's hills is what you need for your weeknight pork curry, or to quick fix a bag of popcorn! 
When Zeinorin Angkang was a little girl, her friends and her would pluck the local sumac berry — called heimang in Manipur — and eat it whole, or grind it with salt and sugar to make a zesty, tangy treat. 
To Zeino, and others from her community of Tangkhul Nagas in Ukhrul, Manipur, heimang was a childhood favourite, growing everywhere, available for children to steal away and eat with their friends; or used by older members of the tribe to make a light digestive tea. 
"It is an amazing, sour treat," Zeinorin says, emphatically about this childhood memory she is now growing, harvesting and packaging herself at her company Hill Wild. "People think only sweet taste can invoke pleasure, but this berry — it can do that too." 
At Hill Wild, Zeinorin works with her husband Leiyolan, and a community of resilient, dedicated farmers from her region to grow sumac, along with other indigenous ingredients — figs, Sivathei chilli, Perilla seeds, Talui garlic. Hill Wild is an exercise in storytelling, upliftment, empowerment, and telling people the stories of Ukhrul and its communities through its beautiful, fertile land. "We want to show people from our community that there is pride in our heritage and the food that we eat. Because of various circumstances, that was taken away from us," Zeinorin said.
Ukhrul was in the centre of the conflict in Nagaland, and has been for years, rendered inadequate by militarisation and surveillance – but initiatives like Hill Wild go to show that for the region's young, there is potential in returning and practising traditional livelihoods, and like Zeino says, taking pride in the land. The sumac is a symbol of this pride, and for Ukhrul's ingenious residents, a hint into their marvellous cuisine. The spice is playful, zesty and a grainy bold purple. The berry is harvested in December, when the fruit is covered in sap. It is dried, cleaned, and powdered before it is packaged.
Like Zeino told us, we believe traditions can move forward, and with young Ukhrul natives like her, this sumac is taking different forms. So here we are, presenting Hill Wild's heimang or sumac — the stuff reminiscent of lip-puckering fun, and childhood memories. 

Here, we make two recipes from Zeinorin's repertoire — a quick version of pork with heimang, a perfect weeknight dish to whip up; and a spice-rub that you can toss into your popcorn, perfect for a movie snack.
SUMAC RUBBED PORK
Ingredients
100 ml olive oil
2 tbsp heimang
1 tbsp sirarkhong hathei chilli
Sprinkle salt on the loin – to taste
Boneless loin chops with fat
Method
Cut the meat of boneless pork loin (fat cap on)
Make a marination of all the above ingredients and massage the loin well
Heat a nonstick pan and put just enough oil to grease it
Lay the meat away from from you, fat side first to avoid the spices from burning
Cook for 45 seconds on each side 
Garnish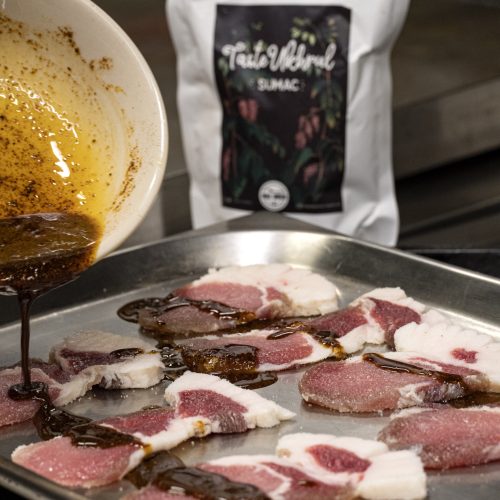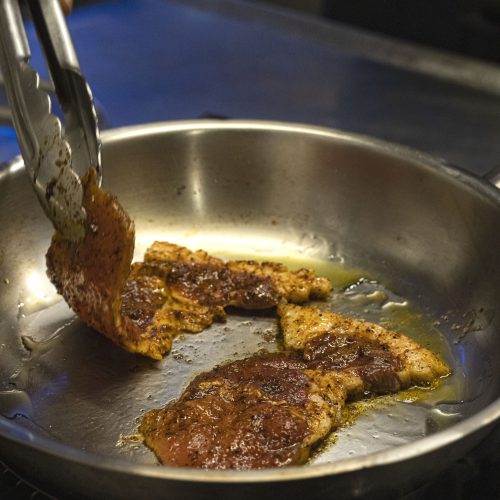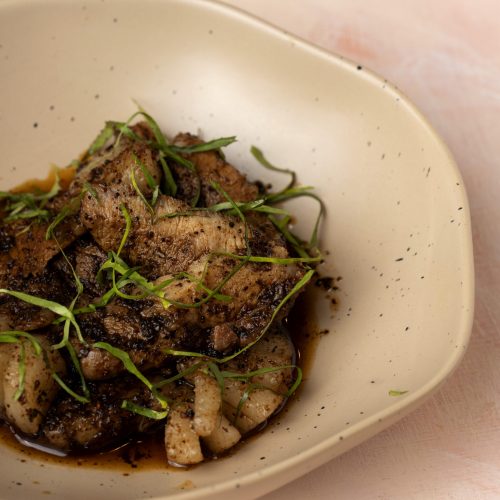 SUMAC SPICE-RUBBED POPCORN​
Ingredients
2 packets of prepared butter popcorn (ACT-II works well)
1 tbsp yeast flakes
1 tbsp sirarkhong hathei chilli
2 tsp heimang
Method
Mix all the seasoning ingredients well till they become homogeneous
Toss your butter popcorn in the spice mix evenly
Put on your favourite show and get poppin!