While movies and films are forever, Joshua Muyiwa's favourite cinema-snacks are now just a delicious memory.
We – my grandmother Dewaki and I – were perpetually running late to the cinemas in Bangalore. We always missed the trailers and have never watched the first few minutes of any movie in the theatre. Our constant excuse: we were buying snacks.
If we were going to watch a movie at Rex Theatre on Brigade Road, then we had to quickly duck into the basement cafe of Nilgiris Supermarket; if it was Urvashi Theatre near Lalbagh, a pitstop had to be made at the L J Iyengar Bakery down the road. When going to Symphony Theatre on MG Road, I remember that we would "have to parcel" spring rolls and wontons. from the OG Chung Wah on Residency Road.
On our weekly trips to the cinema, shameless indulgence in snacks was the order for the day. These movie outings were never out of the blue, they were precision born of practice. The movie listings in Thursday's newspapers were read and regarded through the day, and then the choices were ceremoniously circled by ballpoint pen in the evening. On Friday morning, either my grandfather Bernard, or an uncle – Paul or Hubert – were delegated to do the dogsbody work of standing in the line for the tickets. And then, the two of us would land up at the theatre, confirm the showtime and walk out for some quick snack-shopping.
When I was growing up in Bangalore in the 90s, these outings to the single-screens were a weekly ritual for my grandmother Dewaki and I. We watched everything from my first movie: a kids screening of Disney's Rumpelstiltskin at Rex Theatre to Ram Gopal Varma's Rangeela to Mani Ratnam's Roja to remastered versions of Mughal-E-Azam and Pakeezah. And journeying through these many movies was made sweeter and spicier by a well-honed selection of snacks.

My grandmother loves food, and she loves movies. She isn't a snob about either things. She attacked both activities with the focus and the flair of an economist, an army general, an anthropologist, a lab technician, and a child all rolled into one. While at home, there was universal consensus: Dewaki had 'kai ruchi'. Dewaki had magic in her hands. She could cook anything and it tasted smashing. And therefore, as snacking at home was completely frowned upon, it was this hunting and sampling of snacks from across Bangalore on our "outings" that brought out her inner food fiend.
I'm hazy on the movies we watched but I remember all of the snacks. At the cafe of Nilgiris Supermarket, it was chicken pot pie – the perfect collaboration between flaky, firm crust and spicy, meaty filling; not always perfect but always generous. And perhaps, a couple of the gold foil wrapped Marie biscuits dipped in chocolate from the cashier's counter. And always the supreme snack of all — the Japanese cake (which has nothing to do with Japan) — a thick layer of fluffy, sweetened icing cream capped by two crunchy, crackling almond biscuit discs rolled in butterscotch crumbs with a dot of chocolate on top.
This particular pastry wasn't just a movie snack, it continues to also be my grandmother's choice of birthday cake. Or its individual portions are the perfect excuse for her escaping the ritual of cutting a birthday cake. She'll never tell.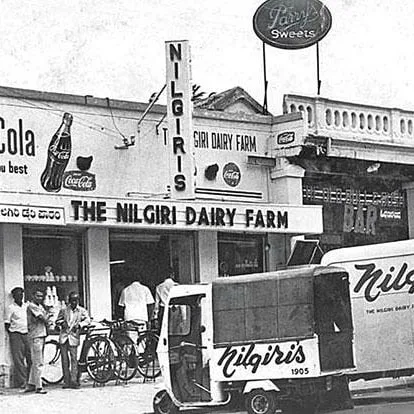 At the Iyengar bakeries, it was always egg puffs – which I'm still obsessed with. To me, it has all the elements of a full meal: bready, eggy, pungent, crisp-fried curry leaves, and sweet strings of fried onions. And during three years as a broke college student, an egg puff with a bottle of Thums Up was my standard meal. As my grandmother and I waited at the bakery, we'd get honey cakes — which are day-old sponge cakes dressed up, with watered down honey, a new layer of mixed fruit-jam and piped vanilla buttercream. Usually, we'd share a piece of cake while our order was being packed.
All of this contraband would be put into her large bag under a shawl she'd carry to brave the air conditioning, and smuggled into the theatre. But once there, we didn't rush to find our seats. Instead, it was another stop at the snack counters inside. My grandmother swung between bullying and charming the men to get them to mix up different flavours of popcorn, which wasn't allowed because no one knew how to charge it. Chaat masala with butter. Salt with caramel. Chaat masala with caramel. I swear for the longest time, I thought this woman had invented this thrilling concept.
Sometimes, we'd add pungent potato samosas to be dunked into sweet tamarind chutney, or those corn puffs that turned into air on the first bite and remained as memory and a mess of yellow spray on one's clothes. All our snacks were also belted in the right order. Everything from outside had to be finished off first because "it was hot, hot". And then, it was onto the theatre snacks, which were washed down with our soft drinks. Once in our seats, we didn't leave until the last line of the credits, and my grandmother would clap every time we saw an Indian name on the screen.
When I talk to them, her elder sisters remember Dewaki dragging them all to the theatre on Saturdays in Kalimpong, where she was born and brought up. It was more than an hour away from their home in the hills, but she'd try to get as many more people to come, as possible. On the long walk, she'd charm and cajole each one of them into investing in a snack from the shops along the way – chilli-tamarind pulp on sticks, fresh and dehydrated fruits dusted with chilli powder, churpi (a hardened cheese), and singaras packed with spicy potatoes and dotted with sweet raisins and crunchy cashews – but not eating it till they got to the movie. And even during those days, they never managed to make it on time.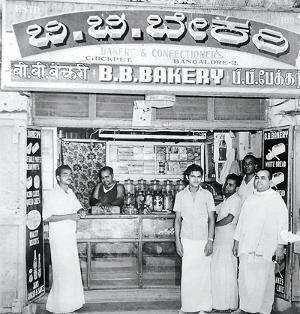 Later in my life, after the last exam, it was a school tradition to go either to The Only Place for a juicy steak with a cherry pie drenched with sweet cream, or Indiana Burgers not for the giant burgers, but really for the delicious mayo, or Casa Piccola for a messy sloppy joe. I haven't grown out of this habit of associating snacks and entire meals with certain places and entire neighbourhoods. Going to Ranga Shankara for a play means sabudana vadas, walking over to Orion East Mall for movies means drinks and salt-and-pepper beef after at Knowhere, and dance performances at Chowdiah Memorial Hall means a couple of plates of the city's best gobi Manchurian from the snack cart opposite the main gate.
Today, all of the multiplexes that have replaced single-screens in Bangalore continue to disappoint with their snack options. Allow me to let you in on a little old-world secret: the canteen at Chowdiah Memorial Hall still has those single-screen special samosas with the sweetest, milkiest tea to cut through the spicyness. And this habit – of hoarding snacks for an experience – which I've stolen from Dewaki, has always guaranteed that I will never be entirely disappointed. Not ever. Not even on a blind date!

We hope you liked this enthuOriginal with nostalgic stories about smuggling snacks into a theatre, 
brought to you by enthucutlet.com