In the controlled chaos of a kirana store, Pavithra Dikshit finds a repository of clever design.
As a child who grew up in Bombay, the local grocery store was my candy shop. Krishna Stores was right across the apartment building where I was raised and Krishna Uncle always snuck in some sweets for me when I went along with Mom. For me, the allure of kiranawalas began then. No Swiggy Instamart beats walking into the local kirana, asking for the moon, and getting it along with some Pan Pasand for change.
Shiny, bright coloured pillow pouches at the entry of our kirana stores are reminiscent of torans put up at home. With these, we can spot a kiranawala even while on the move. These are what we look out for even when we are new to a neighbourhood or city. Once I'm in a kirana dukaan, I'm open to new experiments. Where else should we begin if not the complex flavours in these small pillow packs? The king of these puffy pouches is Lay's Magic Masala. We may venture far and wide in trying novel flavours, but blue Magic Masala Lay's is truly omnipresent.
The exterior sections of kiranas always seem to spill over onto footpaths, simultaneously teeming and inviting. Stacks of bread – nowadays filled with options from whole wheat to gluten free, laadi pav to high protein, focaccias to French baguettes – have something for every kind of customer, and yet the bright red Wibs wordmark on blue and white striped wrapping stands undaunted. Also right there: Coca-Cola refrigerators now stocked with soft drinks of course, but also with Amul cheese and butter, milk, yoghurt, juice, and perhaps tiny clear plastic tubs of chocolate mousse. Here, one size truly fits all.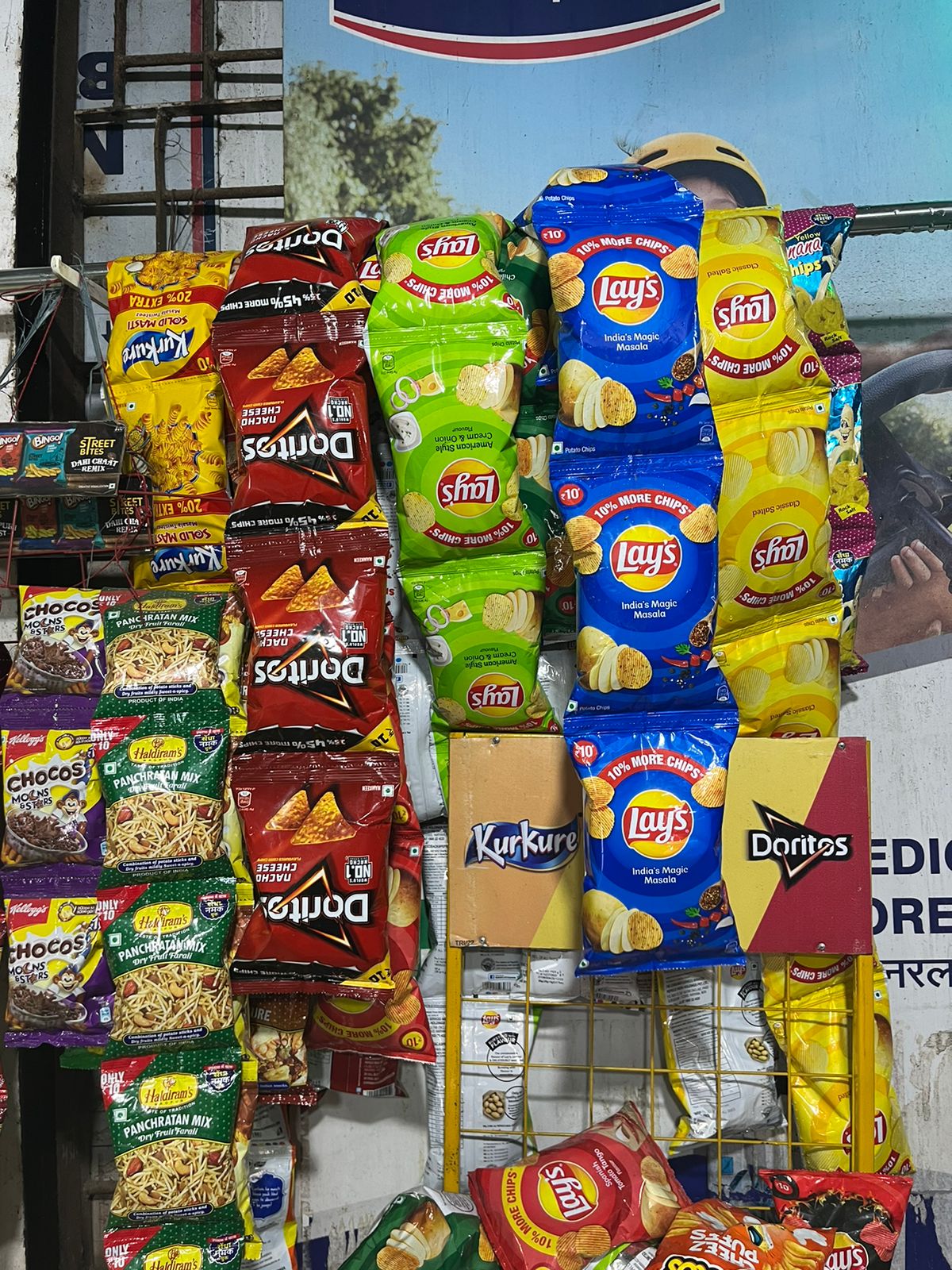 The cashier's counter at the entry-exit of the store is piled with knick-knacks. Kiranawalas know that we come in with a need for something, a necessity. They also know we will leave with some indulgences that have been strategically placed to keep within sight.
Kiranawalas are seasoned veterans of point-of-sale merchandising. They haven't scattered small ticket items around only to maximise shelf space and to make the most of expensive commercial real estate. Traditional shopkeepers arrange their wares to encourage us to add to our already complete baskets. The ten-rupee chocolate bars and 5.5 ml shampoos are designed for smaller wins for those who can't always afford to get the big sizes, but also for many of us as last minute add ons – never planned or predictable, but always mandatory. (I know this from experience: my ma always carries a small foldable bag on her visits to the market, "just in case", because "you never know" what we come across at Laxmi Stores even if we are just going to get bread.)
The local kirana truly reflects the things a neighbourhood is consuming at a point in time. Kiranawalas are the conductors to the locality, and its residents are the orchestra. What we want has to all be in tune; we want what the neighbours are buying, and the neighbours want what we are buying.
This was best exhibited in the Covid-19 pandemic. In some neighbourhoods, pancake mixes and noodles were running out. In some others, it was khakras and kachoris; and in yet others juice and cereal.
Kiranawalas thrive on personal relationships with their regulars. They know every neighbourhood aunty and which brand of basmati rice they consume. They know which of the young fitness enthusiasts consume protein bars, and which ones prefer quinoa over rice.
They even tailor their recommendations based on our regular shopping, "Madam, ye naya aaya hai, aapko achcha lagega", and they do get it right. We can call our kiranawala, say we're calling from 4/43, then say "doodh chahiye", and our preferred milk, whether it is regular or A2, oat or almond, shows up at our door with the exact change to be returned. Customer service at a kiranawala is nothing short of magic.

Shafi Stores in Bandra is one of those who has everything. Late last year, I needed fresh cream, at the very last minute, for a recipe. Not one single quick delivery app had it in stock. I called Shafi, and he simply said "paanch minute". Recently, I tried my luck whilst getting groceries from Shafi. I asked if he had balsamic vinegar. He said, "Kal aayega!". I will never find out if he was going to get it for me or if he was restocking his inventory, because promptly the next evening, there was a bottle delivered home with exact change.
When I walk into any kiranawala, I am often in awe. They can give any organising expert a run for their money. Multiple brands of soap are stacked next to multiple brands of home cleaning liquids. On another shelf, biscuits of every kind, shape, size can be found if we know where we should reach with our hands. It's impossible to put a count on the sheer number of brands, but they unfailingly have something for every customer who walks into the door. The design of the Indian kirana shop is like a Mumbai local train. It looks like it's packed to the brim, and yet there is always room to stock something more.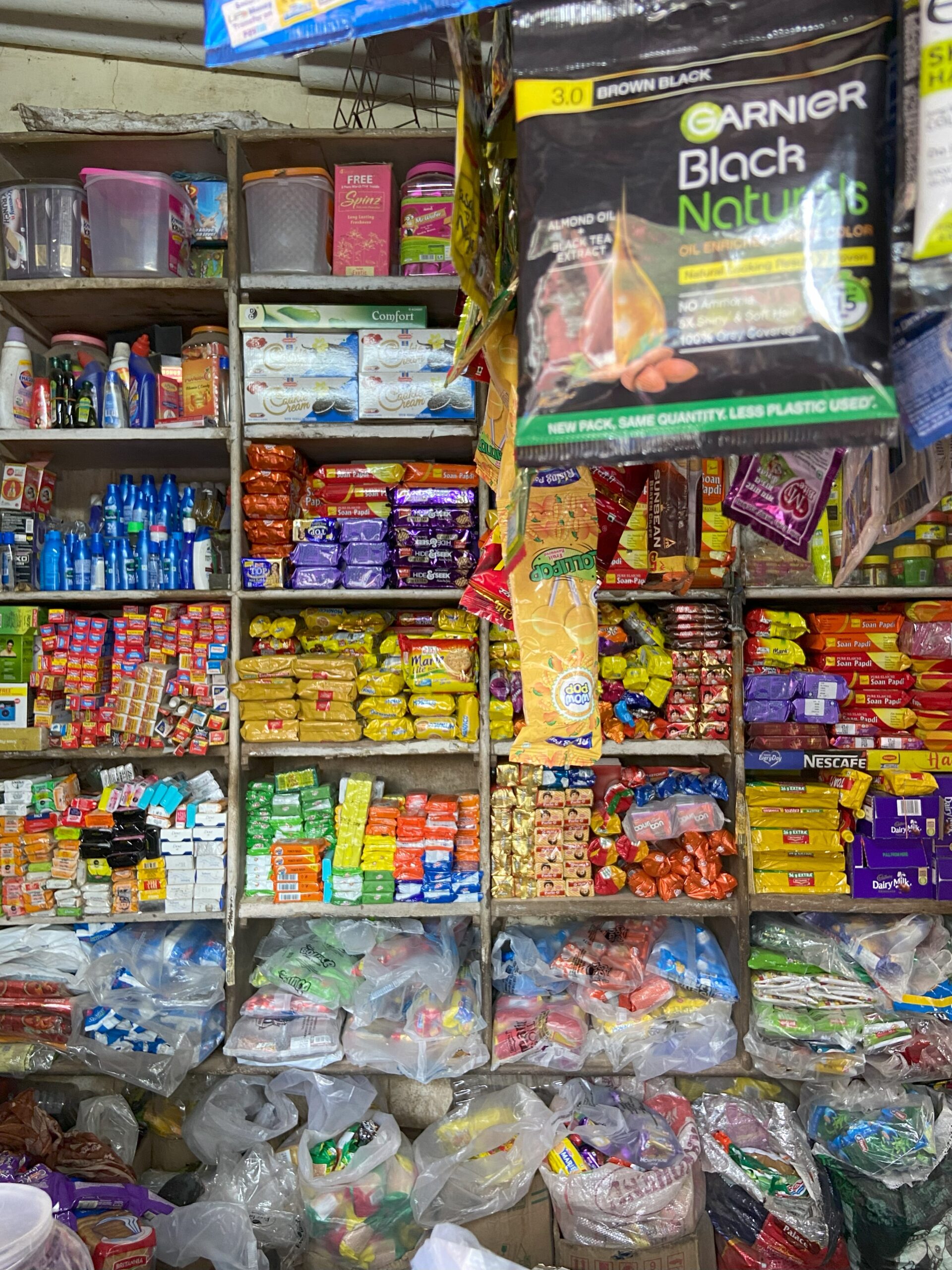 Kiranawalas operate on a photographic memory that maps their store. This is their primary superpower. Their inventory management is precise enough to keep track of specific stocks of multiple brands, as long as it is anything their customers ask for. They maintain a perfect balance of need and want. Over years of watching their accounts, they can predict how much their catchment will consume of a particular item during a certain season. The walls of a kirana are a study in perfect organisation. Kiranawalas could teach a thing or ten to business school students on how to be on top of it all. Here's a lesson on how to think globally and act locally: mass-produced MNC goods are perfectly supported by small-batch community enterprises. Quaker Oats and Ferrero Rocher have their place, but they're certainly not more important than the theplas supplied by the aunty who lives two buildings away, or the custom rakhis made by a regular customer's kid.
And while the big online brands are great for convenience, accessible to city folks; kiranawalas are a lot more inclusive. Be it the older generation who struggles with apps and smartphones or the daily wage earners who might not have a lot of space or disposable income in their homes to stock necessities. Kiranawalas cater to their needs including small sizes of everything which are always generously stocked too! Especially seen more so when it comes to indulgences – like shampoos, conditioners, or five-rupee snack packets. In India, designing for traditional retail is an opportunity for brands to truly innovate.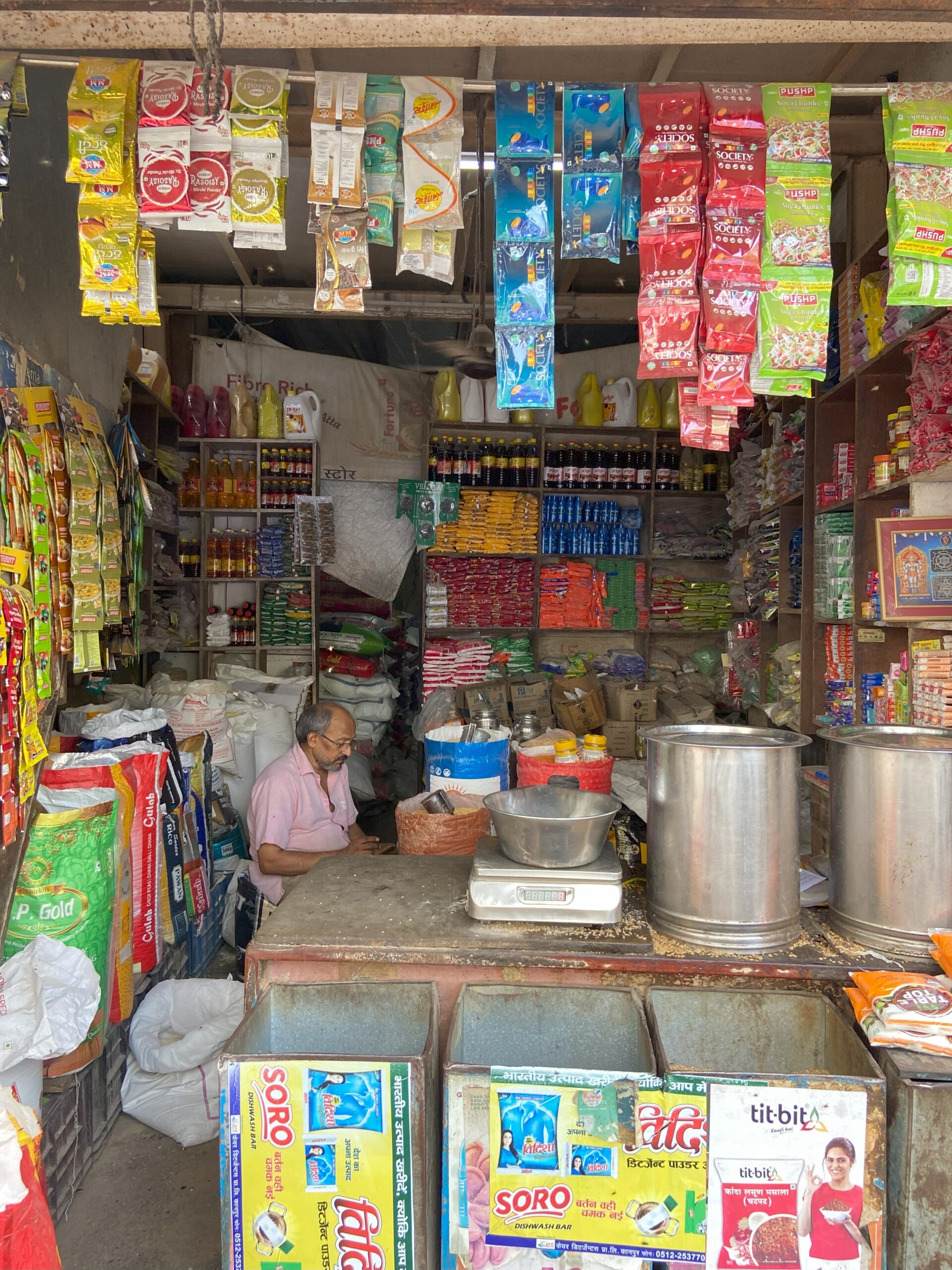 Speaking of indulgences, a kirana store property that is often showcased in its shrewdly placed glory is the thrumming, glowing, frosted ice-cream freezer. Stacked to the brim in a broadly tropical country – it holds everything from chuski to a kulfi, from a mini tub or cone, to a party pack. Succumb to its strategic lure. Did we even go to the kiranawala if we didn't grab a mango lolly on our way out?

We hope you enjoyed this original essay on how kirana stores in India use efficient store design to sell better, brought to you by enthucutlet.