When it comes to cocktails, you cannot talk about an era without talking about the years before that influenced it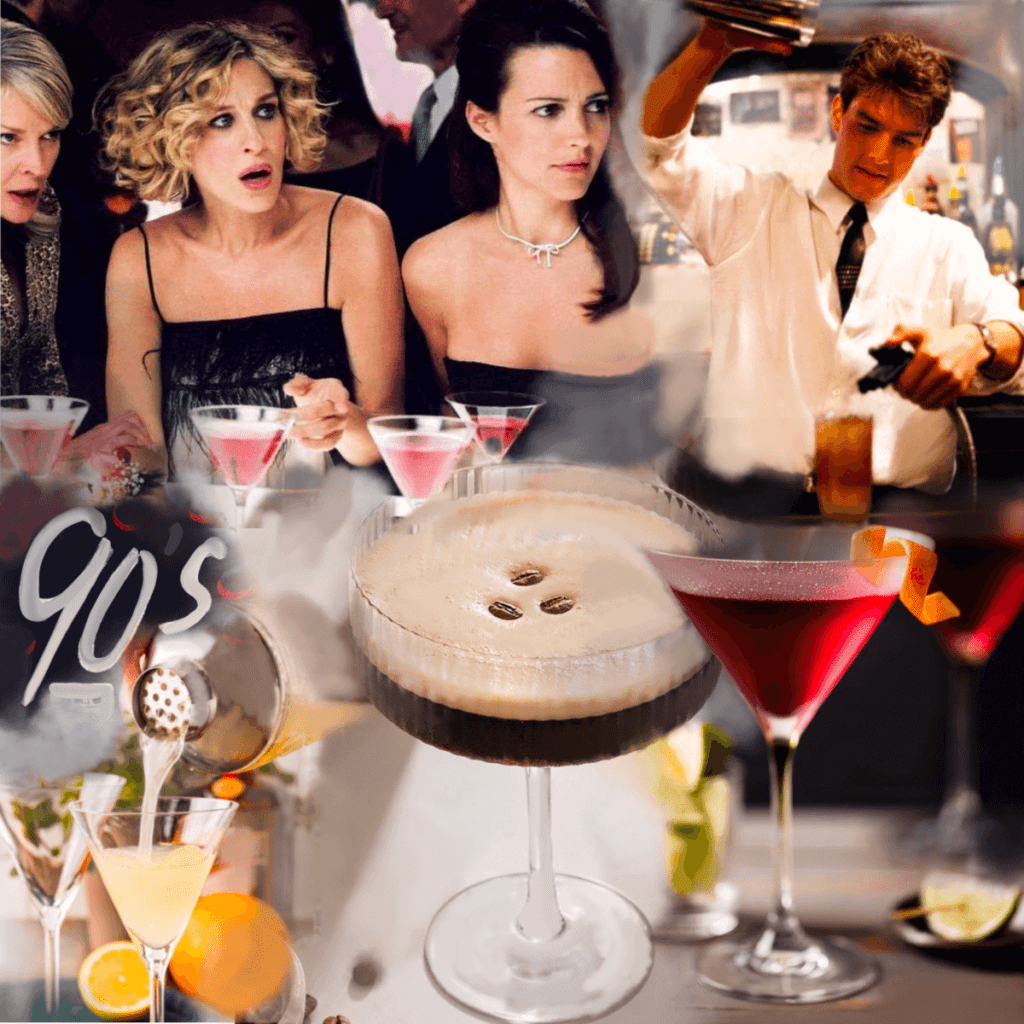 We know the Cosmo from Sex and the City. We loved Tom Cruise in Cocktail. But not all of us know that many of the drinks we drink today tell us stories that go back to the 90s. Arijit Bose tells us their tales.
Coughlin's Laws from the Movie Cocktail (1988) 
Cocktail, the 1988 movie has everything that bartenders want to do this day: to be great at making drinks, to find a mentor to help you through, to fall in love with the cutest girl or guy at the bar, to travel adventurously, to make money, and to eventually own your own bar.
Bartenders – not just in the US, but around the world – watched this movie in the late 80s, and through the 90s. They heard from 'the barman poet' about the Alabama Slammer and the Red Snapper, both drinks which became part of the 90s' bartender's jargon (even though, of course, there were a few shitty drinks sprinkled in there like The Blow Job).
And then there was flair bartending which existed even before Cocktail, but it really blew up due to this movie  – best experienced back in the day at places like TGIF.
Many of our Indian bar professionals – like Yangdup Lama of Sidecar, and of Cocktails and Dreams – were inspired by the movie. Though Tom Cruise is the star of the movie, my favourite character is Doug Coughlin, who mentors Cruise's Brian Flanagan. Coughlin had his "Laws", and he keeps bringing them up in the movie. Bar mentors around the world even today have their own quotable laws.
Coughlin had many laws, but the one I like the most is, "Never tell tales about a woman. No matter how far she is, she'll hear you." It is something us bartenders should always remember.
In the bar industry, one needs a good mentor to guide you, to show you the ropes. We follow this principle to date: Pankaj [Balachandran] and I started off in a similar relationship. I had a bunch of mentors of my own, to whom I am grateful until today – Dimi Lezinska, who changed how brand ambassador programs work; David Cordoba, the guy I met in Mexico and spoke about in my last column; and Jatin Bobb who helped shape my future

The Espresso Martini
As one story goes  — it's a dark night, in a Soho nightclub in London in the late 80s, and a model (perhaps Kate Moss) comes up to the bar and says, "I need a drink that will both wake me up and fuck me up". So the bartender mixed an espresso into a Black Russian cocktail. It sounds simple today, but that magical drink – with the nice crema on top and three coffee beans, became iconic.
The bartender was Dick Bradsell, the creator of many contemporary classic cocktails we drink today. He created drinks like The Bramble, drinks which us bartenders need to have in our repertoire now. One of these has massive significance even today: the one from the story, the espresso martini.
Good coffee was available in the UK and US in the 90s already, because of the Italian influence,  perhaps. In the London and US bar scene then, everyone needed to know how to make the espresso martini.
How does this influence the way we drink today? Post 2010, coffee has blown up around the world, including in India. And today, every coffee guy here – even with all the 'going vocal for local' coffee varieties, cold brewing, and other technical nerdy stuff – wants to make a good espresso martini.

The Breakfast Martini
It's the 90s. The whole club drinking culture has picked up in a big way. It is one of the best decades; the world has opened up, people are out there and entertaining themselves.
During this time, there was an Italian bartender in London, Salvatore Calabrese. In 1996, he invented a martini with a little orange marmalade in it. It was super simple, yet super fashionable. The V-shaped glass had gained prominence, and anything slightly delicate that went into the glass was called a martini. The magical use of marmalade made this martini the stuff of legend. This was the Breakfast Martini, the drink with which Calabrese became a hero in the world of bartending.
This cocktail made us realise that drinks need not be relegated to the evening. With the Breakfast Martini, bartenders also found that they could use ordinary condiments to make extraordinary drinks. Who would have thought that a jam could go into a drink? Everyone looked at The Breakfast Martini and thought, "Why the fuck did I not think of this?!"
The Breakfast Martini also has that weird name – these are two words that should not ideally go together, and showed us how nomenclature can make cocktails fun. Even today, we bartenders use pop culture references and metaphors to name drinks. And it all started with The Breakfast Martini.

The flamed orange peel of the Cosmopolitan
A lot of us now look down on the Cosmopolitan, but it changed the way we drank in the 90s. In that decade, women knew what they liked. The Cosmopolitan was pink, it came in a martini glass; Madonna drank it.
Here's the story behind it. Between 1988 and 1998, a gentleman called Dale DeGroff, known today as The Cocktail King, was running a bar called The Rainbow Room in NYC. It's where all the movie stars went. It was here that DeGroff improved on a drink by a bartender called Toby Coccini.
This drink was the Cosmopolitan, and it was DeGroff who, by adding the flamed orange peel, ignited the imagination of many bartenders. It led to how we use citrus oils now. Us bartenders joke that if you want a girl's number, this is the trick you want to know.
People may call the Cosmo and its flamed peel gimmicky now, but not many realise that DeGroff made us understand what classic cocktails really are. He'd said then that we will go spirit forward, and have old-school, strong drinks. Nothing will be pre-prepared, there will be no soda guns either. He started looking at pre-war cocktail books. This was significant, because a lot of people from bartending and F&B were lost to the war. Many of them moved away during Prohibition, plenty of talent was lost. Which is why layered drinks, tiki drinks, and shitty, coloured drinks came about in the 40s and 50s.
DeGroff also followed an 1883 book by Jerry Thomas, where he found old-school recipes for syrups, nogs, and cobblers. He brought all those recipes back into the American cocktail lexicon. Movie stars were coming in to have Manhattans, Clover Clubs, and Old Fashioneds.
This movement towards classic cocktails is what eventually led to speakeasies becoming trendy between 2000 and 2015. Barmen wanted to have their own rules, they wanted people to appreciate their drinks. People did not come to speakeasies to get fucked up. They came to taste drinks and experience history. Speakeasies became the equivalent of fine dining in the beverage industry.
(Lego built a character in DeGroff's likeness. That's how big he is!)
The speakeasy movement eventually came to India in 2010, with places like PCO and Ellipsis. Who would have thought then that Indians would enjoy negronis so much?

LAB, 1999
LAB, London Academy of Bartenders, was opened by the late Douglas Ankrah in London's Soho in 1999. It had two floors, a bar upstairs, and a lab downstairs. The Academy created bartenders who found their way to various countries, including India – and bartenders in these places were influenced by LAB without even knowing it.
Back then, Ankrah was known as the pioneer of the modern cocktail renaissance. LAB helped move things away from nightclub-style drinking to imbibing properly crafted cocktails with fun names. It was about good hospitality. It was about keeping the 'drinking at the bar' experience very jovial.
One key drink that these guys came up with was the Pornstar Martini – a passionfruit and vanilla vodka martini served with a shot of prosecco. It sounds super simple now, but to have invented it in 2003 as a direct influence of what happened in 1999 was a key moment for beverages. Even today, this drink incites humour, livens up the room, and lets you party it up as soon as it arrives. We have used the Pornstar Martini in a lot of our menus.
At LAB, bartenders realised, to be truly great, you have to be rooted in operations, and you must practice your skills. Many of the ambassadors and bar leaders we hear about today, in Europe, and in the UK, are graduates of LAB. They taught the next generation in the industry in The London School style.
Compared to the US – India and the rest of Asia got most of their influence from the London style of making drinks. Even Lezinska had a relationship with the LAB, and still talks fondly about the place. It had the sort of influence that PCO has had in India. It's one of those places that changed the way bartenders imagined their cocktails.

We hope you liked this enthuOriginal about the best cocktails of the 90s and how it changed the way we drink today,
 brought to you by enthucutlet.com