At Singapore's Madras New Woodlands Restaurant, the appam and its customers have come a long way
I'm neither a morning nor a breakfast person. But when I have to be up early and head to the market for fresh groceries, a spot of breakfast with a strong cup of coffee is necessary. Even though I have to travel to get there, I do almost all my grocery shopping in Central Singapore's Zhujiao Market, known locally as Tekka Market. When I am there, I visit the smaller shops selling regional Indian produce on the peripheries of the main market. Here, I can get everything I need – from fresh kingfish caught in the Indian Ocean, to seasonal green chickpeas.
But before I begin my day bargaining over fish prices, I head straight to the Madras New Woodlands Restaurant for some freshly cooked appams that come with thin coconut milk and red sugar. Madras New Woodlands (named after the cooks from Madras that were hired in its early days) is located at Upper Dickson Road, a stone's throw away from Tekka Market, and within the Little India enclave of Central Singapore. When he started it in the 1980s, Mr. Dinakaran, its original owner, wanted an open kitchen. This was then a novel concept, but he thought that the various inhabitants of Singapore — Chinese, Malay, Eurasian, and other ethnicities aside from Indians could get to know South Indian foods more intimately than before.
Just as I have trekked across the island for these appams, the appam itself has had many journeys and has been adapted to suit local palates. This dish has travelled many nautical miles through early maritime trade connections and migration between South India and Southeast Asia to reach Singapore, and become what it is today.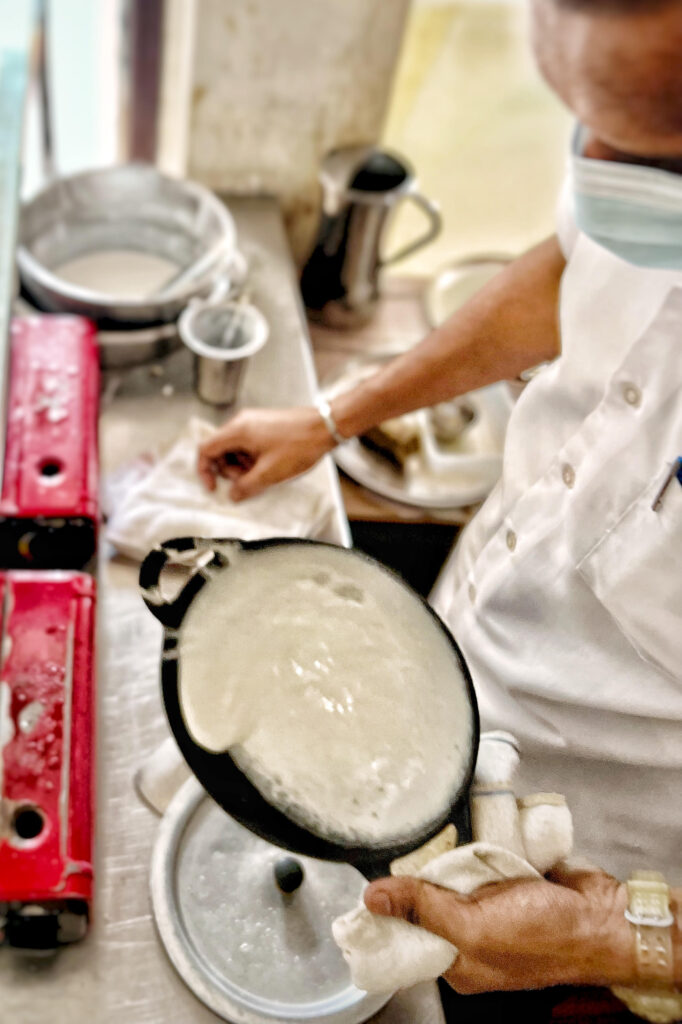 The journey of the appam to Southeast Asia most likely began as early as the 11th century, when centuries of pre-colonial and colonial trade enabled cultural exchanges, and several lexical variations of the term 'appam', along with sweet and savoury adaptations of the dish, came to exist in many port cities in the continent.
In the early 20th century, many Tamils migrated to Malaysia and Singapore (Malaya as it was known then) due to landlessness and indebtedness in India, and later, as indentured labour to work in British plantations under the colonial regime. When they first arrived in Singapore, many Tamil migrants, including my maternal grandfather, became itinerant food sellers selling appam and idiyappam which bore direct resemblance to the ones found in South India. These became popular breakfast foods sold in Indian migrant worker enclaves such as the Tanjong Pagar Port.
The practice of eating puttu and idiyappam with grated palm jaggery, grated coconut, coconut milk, and sweet bananas is common in South India. The earliest reference to idiyappam in Singapore is in the 1920s — when it was locally known as putu mayam or putu mayang, and it was served with shaved gula melaka or local coconut palm sugar, and grated coconut. (In parts of Malaysia, idiyappam is still sold with grated coconut and palm sugar.) However, in post-war Singapore, palm jaggery was not as easily available, it became more expensive than sugar as the production of sugar had become dominant — the use of coloured red sugar replaced palm jaggery. Red sugar packets still labelled and sold as 'red jaggery sugar' till this day serve as a reminder to their past connection.
Furthermore, as food stalls usually sold both appam and idiyappam, the practice of serving both these dishes with coloured sugar, coconut milk or grated coconut became more common practice. And it is the only way they are sold commercially in Singapore today.
The Singaporean version of appams also deviates from its South Indian origins as it does not use coconut palm toddy for fermentation. The last toddy shop on the island shut in 1975 and a government ban soon after dashed all hopes of toddy-laced, fragrant appams in the future.
So, these days, a mixture of yeast and coconut milk is used for fermentation and appams remain a popular breakfast staple among not just South Indians but also everyone in Singapore.
This can be seen by the snaking queues that form in front of every appam stall in hawker centres, including at the Madras New Woodlands Restaurant, which happens to be one of the most popular shops selling appam today.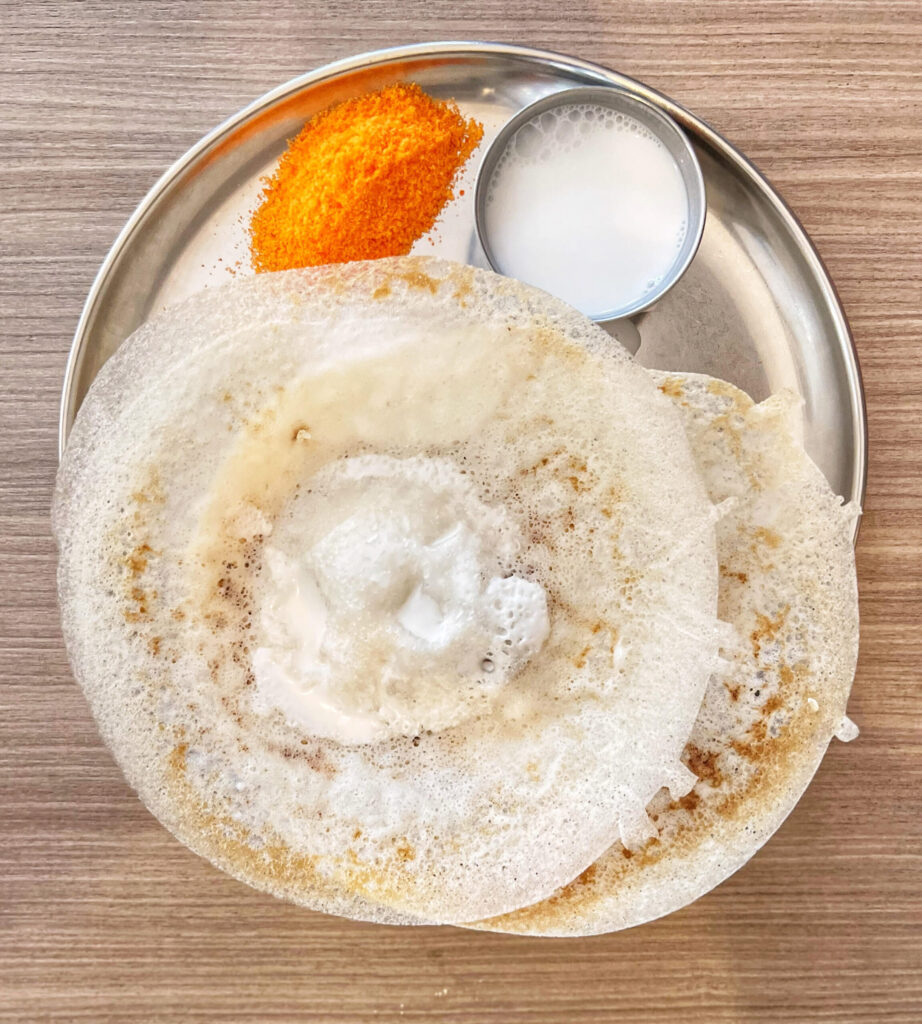 As I walk into Madras New Woodlands, I'm greeted by the familiar sights of the same lady boss seated behind the cash register; neatly arranged photos of Hindu deities with jasmine garlands hanging on the wall behind her. I have been coming to this restaurant since I was seven years old, and the familiar sights and smells of a South Indian kitchen welcome a trip down nostalgia lane. Once I hear the sizzle of the appam batter, I know the time to eat is close. The appam seller pours a ladleful of appam batter into the appachatti, and the fragrance wafting from the bubbling of the coconut-laced mixture to where I sit is enough to send me into a tizzy.
With a firm grip of the chatti and quick, deft movements, the appam maker swirls the batter into thin yet spongy, saucer-like pancake. Except this is not a pancake as most would know; it is so incredibly light and dainty that within seconds – you can wolf down several appams.
When eaten after they are freshly made, it is so easy to understand why appams have so many fans, and have endured the test of time and long voyages across the Indian Ocean. For me, however, appams serve a very practical purpose of easing the early morning doldrums – especially when enjoyed with a strong, aromatic cup of South Indian filter coffee.
**
Vasunthara is a Masterchef Singapore Season 2 Top 10 contestant and a passionate home cook obsessed with making Tamilian-style thosai from scratch and researching Southeast Asian and South Indian food history. She also runs home private dining sessions featuring South Indian food and can be found on Instagram @vasunthara.r
**
Vasunthara's essay is part one of our three-part South-Asian Breakfast series. You can read Youlendree Appasamy's essay on Kara Nichha's puri-patha, that looks at the history of how migration, colonialism, and indentureship influenced the cuisine of Indian South Africans (part two), and Rida Bilgrami's essay on the shifting contours of what is considered English food as she enjoys a Sri Lankan breakfast in a swiftly gentrifying east London (part three).