Across twists, turns, and bans, Sadaf Hussain takes us through some iconic 90s confusion in "Bas Do Minute"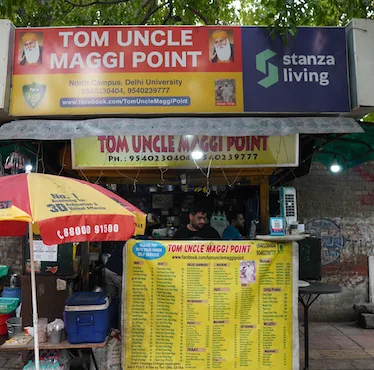 According to a survey by some renowned university somewhere in India, Maggi is the most preferred food by students across the country. It takes just two minutes (in Indian Standard Time), and has a chameleon-like quality, adapting to various flavours and moods. You will find further proof of this at Tom Uncle's Maggi, an iconic spot in Delhi's North Campus. A small, yellow streetside shop with a yellow board (perhaps to match the Maggi), Tom's has been selling Maggi since the late 90s.
On a hot Sunday in June, I boarded a yellow line metro (more yellow) to Vishwavidyalaya metro station to visit the popular joint. When I got there, I saw students, like flies around jalebi, swarming around the stall. The varieties of Maggi at Tom's is endless — Manchurian Maggi, Cheese Maggi, Maggi Sandwich, Peri Peri Cheese Maggi, but the most popular variety is the All In One Maggi with vegetables, a special in-house garlic sauce that is topped with molten cheese. Tom's is a campus icon, and also a low-cost "Laila Majnu" point — boys and girls meet here, grab a quick bite, and head off elsewhere or simply hang out around the stall for hours.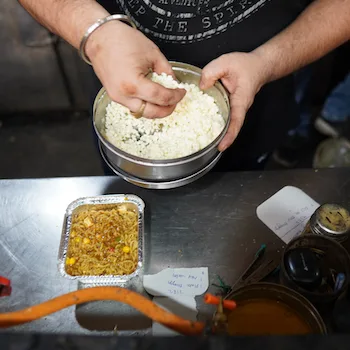 Maggi entered the Indian market in 1984. Like other things considered desi, but which are not (Bata chappals, Nora Fatehi) it originated somewhere else (Switzerland), and was brought to India by a foreign multinational (Nestlé). It is now hard to believe, but in the 80s this product was sold for two rupees and fifty paise, and came in several flavours — including chicken, vegetable, and masala. Apart from the clever marketing campaigns about these noodles being instant, and delicious (Do minute mein ready! Taste bhi, health bhi! Happiness is homemade!) Maggi was loved for its unique, tangy flavour and easy preparation. And also, it was customisable: one could add leftover vegetables, cheese, chicken, and eggs.
In no time, by the 1990s and 2000s, people found their best friend wrapped in this plastic yellow packet. Maggi could be eaten anytime, anywhere; indoors, outdoors; at home, in transit.
The usability of Maggi also led to "Maggi points" across the country. For small-shop owners with no real estate in the cities, Maggi was the solution. All they needed was a small setup, a gas and water supply, and they had a ready business. In the 90s, Tom Uncle (formerly Ramesh Kumar or Titu Bhai) saw the demand and started stockpiling half-boiled Maggi, cranking out dishes in "two minutes." In the 80s and 90s, Tom's sold jaljeera, but 1996 brought him the secret to his fortune: Maggi replaced jaljeera, and Titu Bhai became Uncle Tom.
Subuhi Parvez, a 2009 Miranda House graduate (and my sister-in-law) remembers that even as a small shack, Tom's was always full. Back then, the All In One Maggi was ₹ 10 (now it is ₹ 110) and even though her university canteen served Maggi, being at Tom Uncle's had a different feel. Food YouTuber, Tanmay Sharma (Veggie Paaji) says this too: "Perhaps these days, the craze has gone down because kids want to sit in an airconditioned restaurant," Tanmay says, "but one cannot neglect what a cult classic place Tom Uncle's Maggi used to be." Sandeep Kataria, the second-generation owner of Tom's, told me that "even with 50-plus varieties, students ask for something different." Even today, such is the appetite for the instant noodles among the city's youth.
When Maggi was banned in 2015 due to excessive lead in the product and mislabeling, Tom's switched to Top Ramen, but customers kept asking,"Bhaiya Maggi milegi kya?". Kataria was determined that it was just a matter of time until Maggi made a comeback. It's the same conviction that Durga Devi (in the movie Karan Arjun) had when she stated — Mere Karan Arjun aayenge.
And so it happened. Maggi was back. And it enabled several sellers, like Kataria, to get back to business and on their feet.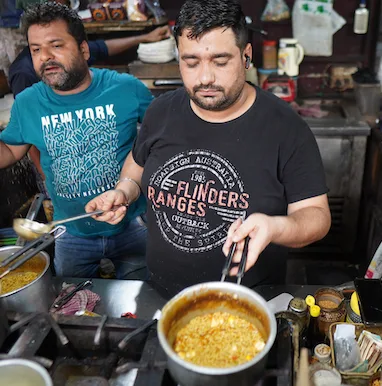 In The Art of Rhetoric, Aristotle wrote, "Of the desires some are irrational, some are associated with reason". But humans (and especially Dilliwalas) are twisted. They like experimentation, and their desires are associated very little with reason. And so, poor Maggi has seen it all. People have turned cooked Maggi to pakoda, a filling for samosa. We have Maggi pizza, Maggi shake, Maggi with chocolate… The list is endless. (If you are going to Google these dishes, do so at your own risk.)
But while many of these Maggis are inedible, they are not inexplicable – Delhi Food Walks founder Anubhav Sapra told me that these gimmicks and experiments are created by small streetside vendors to promote their businesses. "Since they don't have the capital to do so otherwise, by creating something outrageous, they can catch the attention of food influencers," Sapra said, "and by consequence, the public's as well."
Remember Fanta Maggi? In 2021, during peak Covid, a street vendor in Ghaziabad thought it was a good idea to pour a bottle of Fanta and torture Maggi and human nerve strands at the same time. Tanmay visited the shop, but could not convince himself to try this mad Maggi. But he admits that he did once try Chocolate Maggi. (He won't be eating it again.)
If Maggi is forever, then Tom Uncle's Maggi has stood the test of taste and time. And perhaps, the madness around Maggi will always continue. There is nothing you, or I, can do to stop it.

We hope you liked this enthuOriginal Maggie Madness : Then, Now, Forever
 brought to you by enthucutlet.com