Sharda Ugra takes us back through time and stadiums to give us the play by play on the food that fueled some very memorable cricket.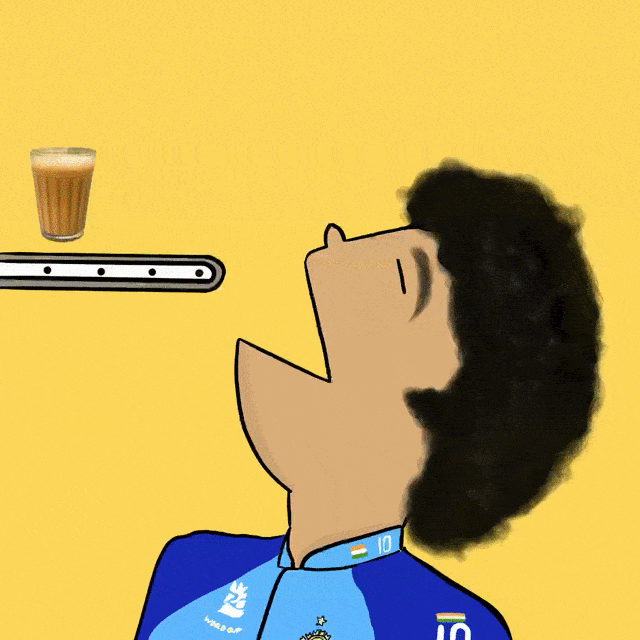 Imagine being introduced to edamame on the 2015 cricket tour of Sri Lanka by an Indian team staffer. Japanese seemed to be the cuisine da capo those days, the trend driven perhaps by the captain's frequent appearances at Yumi, the Taj Samudra's Japanese restaurant. Regardless – hello edamame.

These days, a cricketer's dietary discipline and cheat days are public knowledge, with many a sprouting of #instareels' eight-packs. If the Indian team in the Age of Kohli were to be represented by a single dish, edamame should be it.
There was of course a pre-edamame era in our cricket, where fitness, diet, and nutrition were nebulous concepts. When there was – and many believe still is – much partaking of the most (by modern dietary standards, that is) non-kosher meals around cricket. These were had under maidan tents, in posh and unposh dressing rooms, and even on the roadside. Like fuchkas. "About ten to 15 fuchkas, easy – not often, once in a month and a half (with a plate of chaat) for dinner," said one, who played for India.
But because this is India, there is no uniformity in what was consumed; there was range – local tradition, improvisation, meat-eaters alongside vegetarians. The core component around every theory, philosophy, and element was the importance of cricketing skill. Food was merely a subsidiary, and far from a vital cog in general health or a "performance-enhancer", as Aakash Chopra of India (2003-2004), Delhi, and Himachal Pradesh (1998-2012) said.
And so, recollections of cricket grub in the 1980s and 90s are a mish-mash of nostalgia, affectionate remorse, and the memory of a simpler, less regulated past. These are tastes that still endure, even if not documented or shared digitally, on the vast palate of the soul. Back in the day, the drill was "fill your tummy and start playing". In Mysore, food for Javagal Srinath, who played for India (1991-2003), and Karnataka (1989-2003), and his teenage peers was about "how much you could eat." No question of nutrition or diet", Srinath said. "Diet here just meant eating less. And why would you (do that)?"

Traditionally, cricket appeared to be a sport created to revolve around meals. First, morning drinks (soft), lunch, tea, drinks (not so soft), with time enough for reflection and savouring both.
From 70s onwards, in the maidans of then-Bombay, the lunch break in club cricket lasted an hour, so players could find their meals close at hand. Dadar's Sanman was the choice of the Shivaji Park set (its veg burger apparently was a thing). As a budding cricketer himself, a young Manjrekar would often be a spectator. On lunch breaks, he remembered watching India captain Ajit Wadekar head to Sanman followed by a crowd of around 200 people. They then waited outside as he ate.

Off the Azad and Cross Mumbai maidans, Manjrekar and buddies would head to Balwas for keema plus two rotis ("three would be over budget") with Suruchi next door for the vegetarians. Water was served in steel buckets, everyone carefully scooping their share from the surface so as not disturb the dry grass at the bottom. Tea brought Parle-G, khari biscuit and on occasion, "very exciting" wafers. Playing at CCI or Bombay GymKhana was "going to heaven", said Manjrekar, referring to their fine sandwiches and baked treats, plus nimbu pani over bucket water.
Move on to Delhi – where its club cricketers either carried parathas from home or partook of treats from host clubs. These came in grades, said Chopra – aloo puris, packed sandwiches, plus Modern School's "thoda fancy lunch boxes". He recited the components from his vegetarian lunch box almost poetically: "ek puff hoga, puff ke saath patty hogi, patty ke saath sandwich hogi, sandwich ke saath ek Frooti hogi – and ek apple bhi hoga. Time pass ke liye, kabhi kabhi pastry bhi hogi."
At the much-loved Omnath Sood memorial event, a halwai was at hand, his stove and tandoor feeding dal roti and sabzi to 40 people every day. A move up into Delhi's chaotic first-class cricket circuit meant that at the end of a cricket day at the Feroz Shah Kotla, tea, pakodas, and vegetable sandwiches would arrive.
Out east, Deep Dasgupta (self-described 'junk foodie' and our fuchka-enthusiast above), who played for India (2001-2002), and Bengal (1998-2009), lists Kolkata Maidan specials as chicken stew, and aloo dum (for vegetarians). "Mostly a famished chicken stew, more bone than meat," Dasgupta said. And also, a once-beloved post-practice tea-time treat: black pepper and chini on buttered toast (four slices of toast weren't an issue), "plus chai, of course".
The better the club, the less famished the chicken, the more frequent the floating company of potato and papaya, two pieces each. Also roaming about the interconnected maidans were jhal muri sellers, who recognised the favourite customers and their clubs, and knew where and when to wander over in the afternoons. "They were cheap, filling [snacks]," Dasgupta said, "and if you got out early in the game — out of depression, you would have an extra one."
Never mind a hero ingredient, if there ever were a hero caterer across cricket, Bijoli Grill (BG) at Eden Gardens sounds like it. Arun Lal, who opened for India (1982-1989), and Bengal (1974-1996), sounded like David Attenborough when he recounted BG's 80s lunchtime offerings: "gorgeous thick pieces of crumb fried bhetki with tartar sauce", he said. With my inner Attenborough noting it "emerging confidently off the plate, from the tumultuous white sea of Bijoli's damask tablecloths."
A decade later, the young Manjrekar loved being offered Bijoli's "continental" options of roast chicken at lunch; and during tea, these wonderful grilled onion and cheese sandwiches.
In the south, meanwhile, rice was served in its various forms – puliogare, chitranna with a vegetable – spicy or less spicy, was a throw of the dice. Idlis and dosas were staple starters, "evergreen" for Srinath and other Karnataka bowling contenders like Anil Kumble, Venkatesh Prasad, and Sunil Joshi. There was also the local churmuri – puffed rice with diced tomatoes, onions, carrots (always carrots, Karnataka never forgets carrots), and chillies with a dash of masala – which was wolfed down. But the lure of the slightly more expensive North-Indian snacks – pani puri, masala puri – could not always be ignored in the two or three restaurants that served them.
Srinath also recounted the first arrival of entire crates of sponsored fizzy drinks in Ranji dressing rooms by generous hosts. "It was a very big deal – and you would be a bit shy because everyone would be watching you drink," Srinath said. "You'd think – could I have two? Will people mind?… It was an absolute luxury."
During the 90s, the vegetarian fast bowler was seen as a bit of an anomaly (these days they are vegan without a squeak). Srinath added, "There was pressure from various corners to eat non-veg to be fast." He tried chicken in South Africa for a short while – before returning to shattering stumps, crushing toes and cracking fingers, mostly on rice, dal, and vegetables.

Everyone playing for India knew of the legend – when players from all over the country gathered in an international dressing room, match-day meals would be feasts. "As if you have come for a wedding," said Manjrekar.
To this day, he tries unsuccessfully to dissuade the food suppliers at cricket venues – currently in commentary teams – by saying that because everyone is fundamentally at work "there is no need to give us a daawat".
But of course there is one, as there always was. The ground was hosting the Indian cricket team no less – and so the main meal contained a variety of vegetables, paneer, chicken, sometimes mutton, most of them in a multicoloured gamut of rich gravies  – shaahi, lababdar, navratan, jalfrezi, tavaa, handi, kadhai, kuch bhi. There was dal (black or yellow), rotis and naans with or without butter, and options of fried rice and pulao; with dahi, ice creams. When at Eden Gardens, there was mishti doi.
Every cricket administrator hosting India would turn to the best caterers in their town – those who did weddings and birthdays. So what if this was a sporting event and not a celebratory feast? There was warmth and humour in Dasgupta's voice when he said,"They were doing it out of hospitality, their intention came from a good place."
But there were also disciplinarians of both cricket and diet, like Lal, who observed some rules. While batting, smudges of dal-chawal and a "couple of bites" of ice cream. "Down south when the food was a little chilli, some weak rasam with lots of that damn good dahi or some awesome curd rice," he said. Many of the other young men responded like Dasgupta: "We would say, arre yaar, khaana achcha hai, kya mutton banaaya hai. But maybe we didn't think — batting bhi toh karni hai."
It strikes me that our cricketers share eating stories like overseas cricketers share drinking stories. Of course, our fellas will have many drinking stories too, but the eating stories come slathered with flavour and don't usually end with throwing up, and passing out. Sachin Tendulkar's early teens were about vada pav eating competitions in Shivaji Park, and about tackling two cheesecakes at a time at service stations while driving around on tour in England. The free Pepsis, Srinath says, once totally buzzed Rahul Dravid – already the owner of a ferocious sweet tooth.
The first half of the Noughties marks the early edamame era, with the arrival of India's first fitness trainer armed with protein shakes, greater promotion of dietary nutrition, regular body fat percentage measurements, and enhanced fitness – all leading to a sharper display on the field. Grilled chicken, boiled vegetables, pasta, "less oil" dishes, comfort food made healthier – all these made their appearance on the dressing room daawat. (The no carb, 'black water' stuff would catch on later.)
And today, elite cricket food is on trend: the global superfood mania is morphing into a devotion of local produce. Like all-rounder Hardik Pandya's move from Maggi-mania in his early days, to a homemade meal – steamed rice, sabzi, salad, and low fat dahi – now being his go-to lunch. Or take this – in a May 2021 Instagram Live  "Ask Me Anything", Virat Kohli, who announced turning vegetarian during Covid, listed his breakfast as "lots of vegetables, some eggs, two cups of coffee, quinoa, lots of spinach, [I] love dosas too – but all in controlled quantities".
Outside of the Indian team's highly toned and buffed bubble however, the days of greasy diets may not be as distant as one imagines. Eventually, even though every modern domestic Indian player may be on some manner of sporting diet, they will eat whatever is given to them. Or as Chopra put it, "Even today, if you are playing in Nagothane or in Rohtak, we ask – who's going to make the food? And what are you going to get?"