Charred and roasted fruit, veggies and tubers have offered sustenance and a sensory treat to the palate through times of penury and plenty in this region.
Winter in Bengal is filled with smoke – from the burning stubble on the rice fields, to the community wood fires over which people huddle to keep warm; from the coals on which bhutta is roasted, to the slowly charring 'begun pora' (burnt brinjal) in the everyday kitchens of Kolkata and beyond. Summer, on the other hand, stretches across long humid afternoons spent under a lethargic fan – working, snoozing and drinking copious quantities of aam pora shorbot (burnt raw mango sherbet) to keep the body cool.
When the cold sets in, we also roast tomatoes and onions. The deshi tomatoes in winter are plump and ruby-red with a thin skin and a more pronounced tartness. We mash them together with roasted lal pyaj or red onions, mustard oil, salt and chilli. The smoky pungency, tartness and a hint of sweet makes this the perfect condiment with all meals.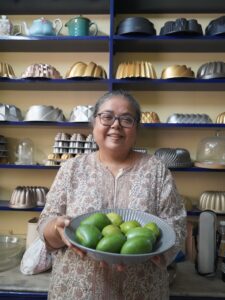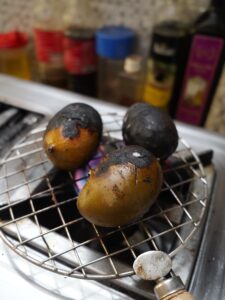 Pora means burnt in Bangla – a term used for something ruined by fire, as well as a charring technique that transforms fruit, vegetables, and fish into a simple and delicious dish. The difference between the two is a matter of mastering heat and a measured manipulation of the flame (between low, medium and high) to yield the right doneness for the ingredient at hand.
The begun pora is perhaps the most well-known example of what direct fire does to a vegetable. When burnt on a flame, the turgid purple skin of the brinjal sputters and morphs into a black wrapper and the Maillard reaction causes the sugars and amino acids on the surface to caramelise into a complex bouquet of umami and sweet with a velvety mouthfeel.
The seasoned cook knows when to remove the vegetable from the flame – when the skin has charred into papery consistency and the flesh transformed to a malleable softness. As a child, I wondered how my mother and all those who cooked in our kitchen managed to deftly peel the begun and remove its parchment-like casing in its entirety. Not a single black fleck remained on the creamy, pulpy flesh, which was then gently mashed by hand with a drizzle of mustard oil, salt, green chilli, finely chopped onion and/or a clove of garlic. Eaten with hot rotis or steamed rice, this palate-rousing dish converted fussy eaters like me into lifelong fans.
The begun pora and aam pora are among the many dishes in the pantheon of poras in traditional Bengali cooking. In the culinary annals of the world, the technique of cooking over an open flame dates back over two million years. The advent of cooking gas and modern appliances have no doubt changed how we char, burn, and eat. Yet, across the cities and villages of Bengal, the pora has continued more or less unchanged from one iteration of the kitchen to the next.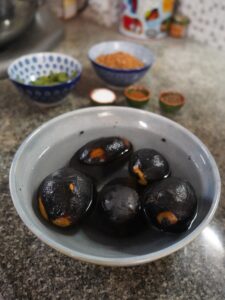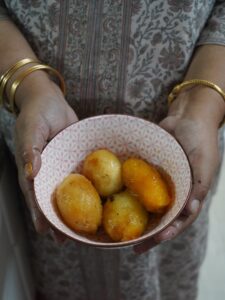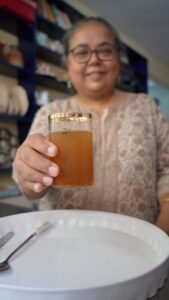 A brief history of Pora foods
According to food historian and researcher Pritha Sen, pora is a cooking technique that has its antecedents in Bengal's Proto-Australoid tribal roots. "There are two parts to our cuisine – one that comes directly from nature, and the other from culture. Foods like bata (ground in a stone sil batta), pora, and makha (mash) came directly from nature and were the simplest of dishes because people foraged for their food," says Sen. "These were dishes made out of largely uncultivated foods, and out of edible leaves, stalks and roots, and [they were] cooked with the least possible fuel, like the pora. Beyond the quick burning on a flame, the ingredient at hand was not cooked further, but simply mashed with a little mustard oil and onion. All these foods went a long way because foraged foods were never about volume. It is what you sourced for the day from that which grew in your home or around you."
The pora was not restricted to vegetables alone. In fact, the earliest version of kebabs was known as "shik pora" and referred to meat skewered on a rod and roasted directly on the fire. Brinjal, raw mango, potatoes, and other vegetables were put directly on the naked flame, while fish and posto bata (poppy seed paste) were wrapped in leaves and roasted over a wood or charcoal fire. In Bengal, the earliest written references to the pora date back to medieval literature, particularly the Mangal Kavyas – a collection of religio-cultural verses by various authors between the 13th and 16th centuries. In the Chandimangal, one of the sub genres of the Mangal Kavyas, 16th-century poet Mukundaram Chakravarty narrates a story where a character prepares "boiled broken rice, lentil boiled in water with some spices and bottle gourd and burned native potato." Apart from this, there were references to "burned fish with jamirer ros (lime juice) and burned porcupine quill". Another section of the text refers to other exotic meats including "burned mongoose".
A quick scan of the contents of Amish o Niramish Ahar, a two-volume Bangla manual of vegetarian and non vegetarian recipes published in 1902, reveals an exhaustive list of poras. The books written by Rabindranath Tagore's niece, Pragyasundari Devi, are a useful record of how and what the people of Bengal ate. And despite belonging to one of the foremost families of Calcutta, her recipes do not merely chronicle Renaissance-era urban Bengali cooking but are also an exhaustive catalogue of rural foods. The pora section for example includes items like amrul shak (sorrel leaf) pora, kochi kochupata (tender taro leaf) pora, dhudhul (sponge gourd) pora, paka ucche (Ripe bitter gourd) pora and a host of others.
Pritha Sen points to the economical nature of these dishes as they used very little fuel, a few drops of oil and a handful of spices in their preparation. "The cultural aspect of these dishes comes in via how we have transformed them both in Bengal and across the border in Bangladesh. We have added many more masalas to these original bata-pora-makhas whose origins came from a simple way of living, frugality and economising for large families," says Sen. She also adds how this style of cooking held Bengal in good stead during periods of calamity like floods and cyclones and helped people survive. These food habits also helped them weather crises like famines and food shortages led by colonial machinations. "Bengal was a rich and fertile state which was exploited by the British colonisers and cash crops like jute, indigo, and poppy replaced food crops. The backs of the peasants were broken and they survived because of these frugal ways of eating," she says.
Pora cuts across caste and classes in both rural and urban Bengal, offering a simple substitute for the poorest in the absence of a well-stocked larder of oil, ghee and spices. In the homes of the well-heeled, the pora forms one of the first dishes that make up the multi-course Bengali meal. "This course is served as a starter along with the 'teeto' or 'bitter'," says Sushanta Sengupta, chef and partner of Kolkata-based Savourites Group, the brand behind the 6 Ballygunge Place chain of restaurants. "There is a famous saying in Bengali that if you start your meal with bitter or pora items, then every item that follows tastes good," says Sengupta. And in the complex balance of flavours and textures that makes up the complete Bengali meal, the smoke-infused pora with generous lashings of pungent mustard oil, salt and allium has a well-defined place of its own.
Unfortunately, many of the dishes from Pragyasundari Devi's cookbooks have vanished from the Bengali kitchen today. "The advent of modern cooking equipment powered by LPG, electricity, and induction have led to the waning of this method of cooking in modern Bengali cuisine," says Sengupta. While today's pora foods are far less varied and limited to vegetables and fruit like brinjal, potato, pumpkin, sweet potato, tomato, raw mango, even in this comparatively limited repertoire, it still stuns with its complexity of flavour and smoky intensity.
My learning how to make the pora like much else once I left home, was via my mum's patiently written notes and numerous instructions issued via Whatsapp. "How do I know the brinjal isn't burnt?" was a standard question that didn't have a standard answer. The word "andaz" that my mum used came with years of practice and was not a word that could either be translated or measured in exact minutes or teaspoons. With time, the inedible ashy versions gave way to the delicious smoky begun pora and aam pora made by Ma…and soon, my grown-up kitchen too began to smell like the seasons of my childhood. And thus, the aam porar shorbot and begun pora replaced the aam pannas and baingan bhartas in cities far away from Bengal. And that familiar taste of fire quelled the homesickness…if only for a flash.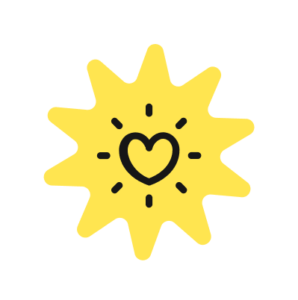 Making of Aam Pora demonstrated by Rhea Mitra Dalal who is an archaeologist, painter, writer, caterer, cook and baker.