This January, enthuTeam is exploring food festivals that celebrate people, livestock, nature, and of course, the end of the fruitful harvest.
India's top food festivals to attend in 2023.
1. AVAREKAI MELA, Bangalore
It's a new year and it's time to wake up and smell the beans! No, not coffee but the deep, rich scent, and characteristic aroma (sogadu) of the Avarekai or hyacinth bean.
The Avarakai Mela held in January on the food street at VV Puram, celebrates this sweet, nutty, buttery Bengaluru bean. Story goes that Geetha Shivakumar of Sri Vasavi Condiments started the mela to help farmers popularise and sell more of the beans (that were often being unsold and wasted). Now, almost 20 tons of Avarekai are sold during this mela.
The mela not just offers the beans in their raw form but presents both a traditional and innovative food fair, ranging from dosas, vada, pani puri, holige, green jalebis, almost anything and everything you can imagine being made with this bean!
Bean there, ate that!
Dates: January 5th to January 9th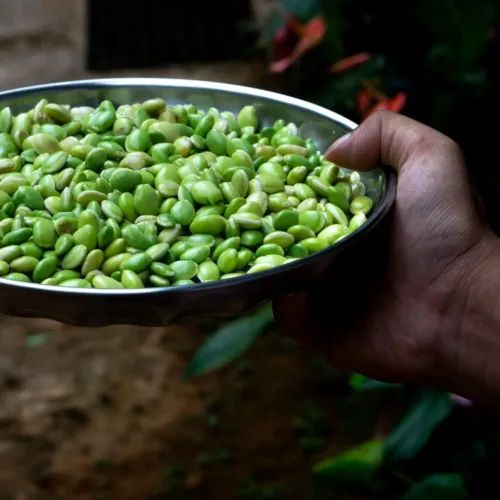 2. 12th NATIONAL STREET FOOD FESTIVAL, Delhi
Street food is serious business – it uses what's fresh and local, and is at the forefront of jugaad, curiosity, innovation, and creativity. The National Association of Street Food Vendors of India (NASVI) brings that street food magic at their annual festival that will bring together more than 120 street food stalls from across India. Bring your curious palettes and be ready for some delicious fusion confusion.
Dates: January 13th to 15th; noon to 10pm.
Address: Jawaharlal Nehru Stadium Complex, Pragati Vihar, New Delhi.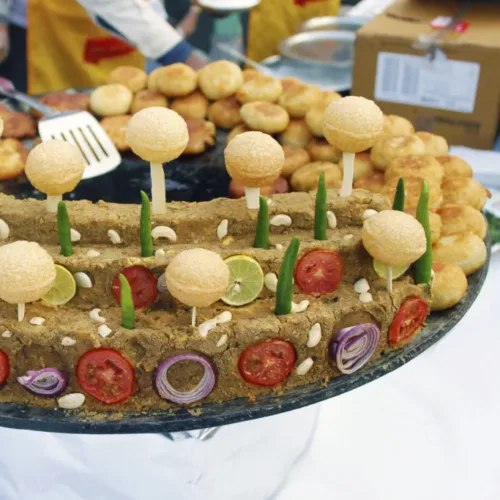 3. BIKANER CAMEL FESTIVAL
The camel is culturally and economically significant to Rajasthan's desert communities and this festival celebrates this majestic (or as the website describes, 'surly, hardy') animal with a parade and cultural programs. Festivals like this are wonderful to explore seasonal and traditional food and ingredients – like the celebrated camel milk. Camel milk's health benefits can be ascribed to the fact that camels are herded by nomadic pastoralists, and are allowed to graze on a variety of trees and shrubs through their travels across the desert. At the festival, you can try your hand at the camel milking competition, or sit back and sip on a cup of tea, or indulge in some sweets and cheese – all made from camel milk.
For more information, visit the Rajasthan Tourism website and the Bikaner Camel Festival Website.
Dates: January 11 and 12
Address: Bikaner, Rajasthan. The parade starts from Junagarh Fort and ends at the Dr. Karni Singh Stadium, the main festival venue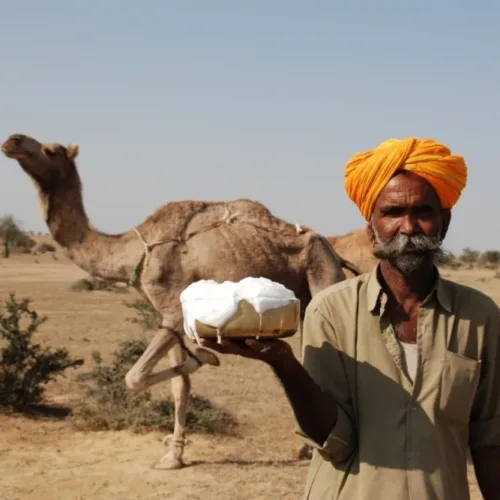 4. DEHING PATKAI FESTIVAL, Lekhapani, Assam
The annual Dehing Patkai festival highlights the cultural diversity and food culture of indigenous communities in Assam. It's held at Lekhapani in Tinsukia district, where different villages present food offerings at a food festival. Tea, the 170-year-old core industry of Assam, is also celebrated here with tea learning experiences and heritage tours. If you're an extra adventurous enthucutlet we've been told there's also a Bhut Jolokia Eating Contest!
The tea festival of Assam is also on during this time at Jorhat, which houses the Tocklai Institute, the world's largest and oldest tea research centre – it was founded in 1911.
Dates: January 16th to 19th 
Address: Across Dehing Patkai National Park in Lekhapani, Assam

5. MILLET MELA, Bangalore
While Karnataka has an annual mela to celebrate the climate resilient millet crop, this year is extra special. The United Nations, at the behest of the Government of India, has officially declared 2023 the International Year Millets! This year's mela will bring together not just great food and products but also "millet mindfulness" to amplify the importance of millets in sustainable agriculture and nutrition.
Dates: January 20th to 23rd
Address: Bangalore