Breakfasts in Kolkata's Musholman Paras neighbourhood tell varied stories of migration and history.
The colossal, red sandstone structure of the Nakhoda Mosque in Central Kolkata rises from a chaotic warren of lanes and alleyways crowded with shops selling everything from chequered lungis, silk kurtas, and fragrant ittar in cut-glass bottles, to tobacco, utensils, and cheap gemstones. With cusped arches, latticed screens, foliated plinths, and massive green domes, the mosque was built in the 1920s by members of the Kutchi Memon community, who started to migrate to Calcutta from Gujarat as early as 1770 and settled in the surrounding Chitpur area, the erstwhile 'Black Town' of colonial Calcutta.
But this area around Nakhoda Mosque is noteworthy for another thing – it is dotted with traditional Muslim eateries, also colloquially called 'hotals'. The hotals are mostly no-frill, working-class restaurants, and are strewn across the city's Musholman Paras, or Muslim neighbourhoods. These restaurants serve varied food but are often yoked under the banner of 'Mughlai food' by people in the city. They are also where many flock to, to eat breakfasts that fill them up for the day.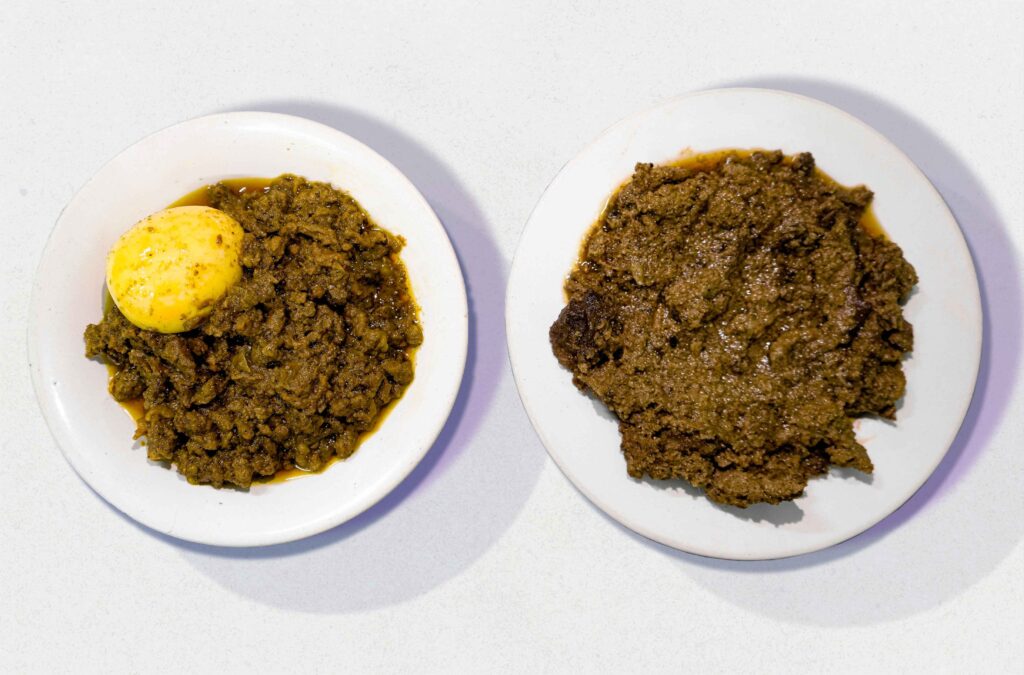 Some of these eateries stir into action at the crack of dawn to serve up robust breakfast spreads of freshly baked flatbreads, rich meat curries, and thick milky tea to a steady flow of regulars – mostly traders and labourers from the areas around. They primarily serve a Muslim clientele, and come without the 'No Beef Served Here' sign seen at more gentrified Muslim restaurants serving the majority of diners in the rest of Kolkata.
Among these establishments is the iconic Islamia, where they serve bada (colloquialism for beef) bhuna, kheema, and chaap for breakfast. And there is also Madras Hotel, where "they make very good salan and chaap", as Muhammad Shamim, an elderly man who lives in the vicinity tells me. "They named the hotal Madras but the owner is from UP," he adds. In fact, most of these restaurants are owned by people from across North India, who migrated to Kolkata, and opened these eateries meant to serve familiar food to those who, like them, had left their homes behind.
On Zakaria Street, adjacent to the mosque, Sufia is a particularly popular spot for its offerings. A small, unassuming establishment whose sign promises "taste of homely food". Sufia opens as early as six in the morning, and people start coming in by seven. On the menu is beef bhuna roasted on a high flame with alliums and spices; spicy beef kheema sheathed in a liquid cloak of chilli-red oil; and daal gosht, a spirited dish of lentils (typically a mix of them) and beef, cooked together with warm aromatic spices to a creamy, mushy consistency.
The only khassi (goat) dish available in the morning at Sufia is the mutton tamatar ishtu – a soupy, deeply savoury stew that gets a hint of tang from the tomatoes, and is mopped up with soft tandoori roti or crusty daal puri (deep-fried puri stuffed with a spiced lentil mix). Aasif Iqbal, a restaurateur and communications professional, told me that Kolkata's nouveau riche Muslims these days tend to scoff at this traditional breakfast as unsophisticated and rustic. "The elite and upwardly mobile families are not regular takers of this breakfast spread, though they do drop by at times for a traditional breakfast at more upscale restaurants like Shiraz, or opt for a takeaway," Iqbal said.
But for the regular takers – migrant labourers, shopkeepers, taxi drivers, and others, these breakfasts are more than a matter of taste and tradition. They are relatively cheap, rich and wholesome, and fortify them for a day's hard work. They survive a good part of the day on the strength of this morning meal. However, it is during winters that Sufia, and other establishments like Islamia, draw larger and more diverse breakfast crowds. That is when they serve up piping hot bowls of nihari, served after the Fajr ki namaz. Between mid-November and mid-January, people flock to these eateries as early as 4:30 a.m. for cockcrow breakfasts of nihari and roti.
The nihari – beef shanks simmered in massive pots of spiced broth on a mellow flame all night – is best eaten with a garnish of fresh coriander leaves, and a generous squeeze of lime.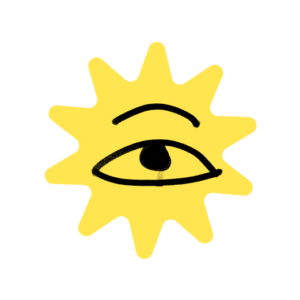 I first sampled Sufia's nihari at my friend Lubna Salim's home in the adjoining Colootola area on a cold December morning. The feisty meat was accompanied by soft, spongy naan. As we ate, her aunt urged us to fill our bowls with the homemade gajrela – a lightly sweetened soupy dish of milk and grated carrots that purportedly helps digest the nihari and cools the body. Lubna, a marketing and communications professional, pointed out how dishes like nihari, daal gosht, and other Old Delhi delicacies that are popular in the area, may have travelled to the city with the Qaum-e-Punjabiyan or Kshatriya Muslims of Delhi, and other communities from Uttar Pradesh who claimed their association with Calcutta from the middle of the 19th century. It was particularly after the Sepoy Mutiny of 1857 that many of them migrated to the city and settled in it.
This observation struck me as interesting – discussions around the city's Mughlai food are typically/usually centred around the arrival of the Nawab Wajid Ali Shah and his entourage in 1856. Even as the the influence of Awadhi cuisine in Kolkata's culinary map is unmistakable, in fact,
a majority of Kolkata's Muslim population, largely from across northern India, arrived in Colonial Calcutta riding on waves of industrial migration, to work at the port or jute mills, long before the Nawab landed in the city.
This is reflected in the original outfit of the century-old Royal Indian Restaurant, or simply Royal, a short walk from Sufia, opened in 1905 by a Lucknowi migrant named Ahmed Hussain, who had experience working in royal kitchens. Royal opens shop at ten in the morning with the entire gamut of their signature dishes – biryani, pasanda, chaap, and rezala. But the quintessential Royal breakfast, a member of the staff here tells me, is the mutton kundan qorma – chunks of goat meat cooked in a mildly spiced, allium-rich gravy, paired with roti or naan.
Another popular item at many of these eateries is the dal puri – a big part of the Bengali breakfast repertoire. Typically, sold out of traditional sweet shops, its usual accompaniment is potato curry. But at these eateries dal puri is served with rich, robust meat or offal curries. "Dal puri nahi milega to Kalkatiya log kya khayega?" says Ismail, who works at Saiqa Restaurant, a Muslim eatery in the Park Circus area, in the southern fringes of Central Kolkata. "If they don't eat dal puri, what will the people of Calcutta eat?"
A wildly popular accompaniment for the dal puri, particularly at Muslim eateries around Park Circus and Ripon Street, is the tikiya (not the same as tikka) – a textured treat of spiced mince patties that are skillfully fried, so it's slightly crusty on the outside, and soft and moist on the inside. Tikiya can also be simmered in a rich gravy. "Chaar dal puri aur do tikiya pe dopahar tak chal jata hai," says Shami-ur-Rehman, a tailor turned taxi driver, who often ends up eating nothing else during the day.
Offal, too, is in fact a big part of the Mughlai breakfast spread. Gurda, kaleji, maghaz – cooked in allium-rich gravies, topped with bloodshot oil – mopped up with thick rotis make for a cheap, nutrient-heavy breakfast. A good place to try these is at Sabir's in Chandni Chowk, a bustling business district in the heart of Central Kolkata. The place, named after its founder Sabir Ali who migrated to Calcutta from Lucknow in the 1940s, is a more middle-class establishment with its marble top tables and an airconditioned family section that opens for lunch hours.
Sabir's is best known for their rezala – meat cooked in a sapid white gravy made with yoghurt and poppy seeds. In the mornings though, they serve up a crisp breakfast menu of daal gosht, mutton stew, and offal – gurda, kaleji, maghaz – cooked in allium-rich gravies. Besides, there's fresh malai topped with a generous lashing of crunchy sugar granules and their signature paani kam chai.
A big part of the clientele here are the city's Afghan population, that the manager refers to as Khan log, many of whom live or own small shops in the area. The Afghans, often referred to as Kabuliwalas in Kolkata (even if not everyone comes from Kabul), are integral to the city's history. In her iconic recipe book, The Calcutta Cookbook, Meenakshi Dasgupta writes how winters brought (to Calcutta) trainloads of traders from Kabul, and for these seasonal visitors, places like Sabir morphed into a community space, a cherished ritual that gave them a sense of familiarity far away from their home.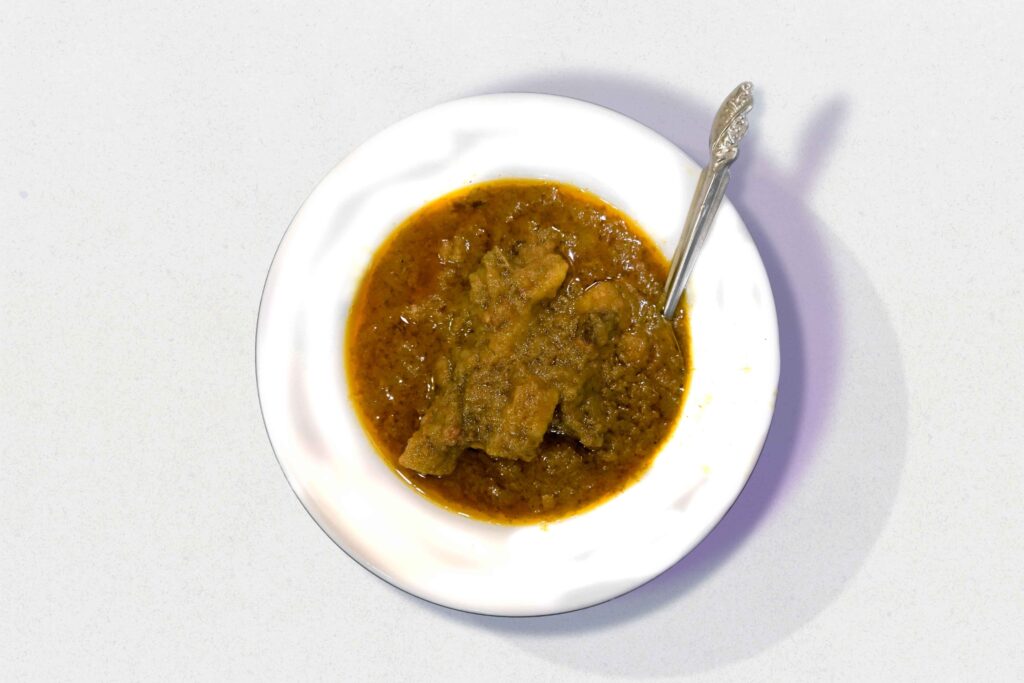 The rich, oily, beef-laden spread at places like Sufia and Islamia is a far cry from the more mild-natured luchi-kochuri, aloo tarkari, or deem paoruti that dominate conversations around breakfast in Kolkata. Even the fabled breakfast at Flurys with its prim platters of eggs, bacon and sausages, pales in comparison.
At a time when beef has gone off the menu in much of the country, these eateries can easily be pitched as tokens of the city's claims to a more syncretic, tolerant culture and long history of cosmopolitanism. And yet they are permeated by a sense of 'otherness', not only communal but also economic. Many a Hindu Bengali, known for their tenuous gut, would squirm at the mention of this calorific, protein overdrive first thing in the morning. But even so, they are, if nothing else, important spaces of negotiation between the city. These Mughlai breakfasts have always been, and are crucial to those who come to Kolkata to make a life and living.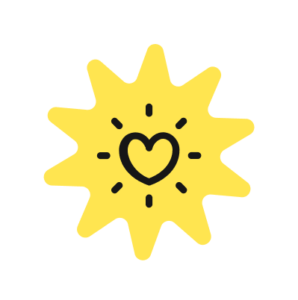 Priyadarshini Chatterjee is an independent food and culture writer based in Kolkata, India. Her work has appeared in Conde Nast Traveller, Whetstone Magazine, Diaspora Co, TravelDine, The Hindu Business Line, and others. When she is not writing about food, she is cooking up a storm.
Clicks by Soumya Karak