Who better to tell us about the hidden culinary treasures of Lucknow's Akbari Gate than the paan veteran and chowk expert himself. We chatted with Azhar Bhai, the owner of the famed Azhar Bhai Ka Shahi Pan Shop, who let us in on the 5 best places to eat around Old Gate, Lucknow that an enthucutlet shouldn't miss.
Here are all the locations on our enthumaps.
1. IDREES BIRYANI
Trust a local to tell you their trusted Biryani source. For Azhar Bhai it is 45-year-old Idrees ki Biryani. This street side restaurant serves 3 things on the menu – biryani, roti and mutton/chicken korma and you'd rather have it all. The mutton stew that forms the base of this biryani is made in two different steps – first with curd, chilli and oil after which the gravy is further cooked with milk, sugar, and a secret house spice mix.  The biryani handi is set up over open coal outside the shop, layered with the mutton stew at the base, followed by fluffy short grain rice, saffron water and cooked on dum for about 20 minutes. You know your biryani ticks all the boxes if the rice itself is full of fat and flavour!
enthu tip – There's not a lot of dining space so you may have to stand around the shop or pack up a box and enjoy it elsewhere!
Address : Jauhari Mohalla, Raja Bazar, Chowk, Lucknow, Uttar Pradesh 226003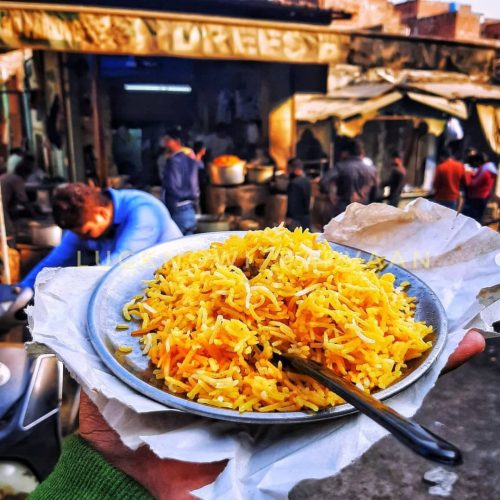 2. PANDIT RAJA THANDAI
When you need something to cool you off after a plate of biryani, Azhar Bhai recommends a pitstop at Pandit Raja Thandai. The shop is now run by the third generation and while they do serve lassi and sherbat, everyone comes here for thandai. The taste hasn't changed too much from when Raj Kumar Tripathi's grandfather opened this shop in 1936 but may undergo tweaks based on market prices of spices!
While the Thandai's spice mix is still the shop's best kept secret, he swears that it is still made in the traditional fashion with great Ayurvedic benefits.
The thandai has a base of sugar syrup, thandai itself that is made with kesar, mewa and milk and finished off with a dash of rose water because well, you're in Lucknow!
Address : 10 a, Kasturba Market, Chowk, Lucknow India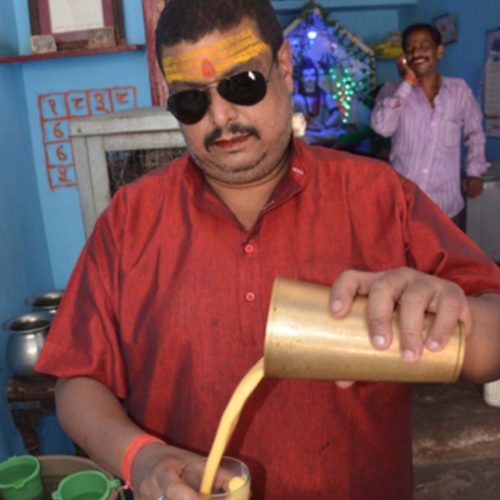 3. DIXIT CHAAT HOUSE
''Yahan tho sab kuch acha hai!'' Clearly Dixit Chaat has a sweet spot in Azhar bhai's heart. While everyone raves about the Crisp Matar, he loves the Pani ke Batashe (a Lucknowi version of Mumbai's Pani Puri and Kolkata's Puchka) and the Aloo Tikki made with crisp tikki and cold dahi!
The best part? Everything is made with ghee – which only makes it ten times tastier. Wouldn't you agree?
Address : 15, Kasturba Market, Opposite Ram Manohar Lohia Park, Chowk, Lucknow, Uttar-Pradesh, India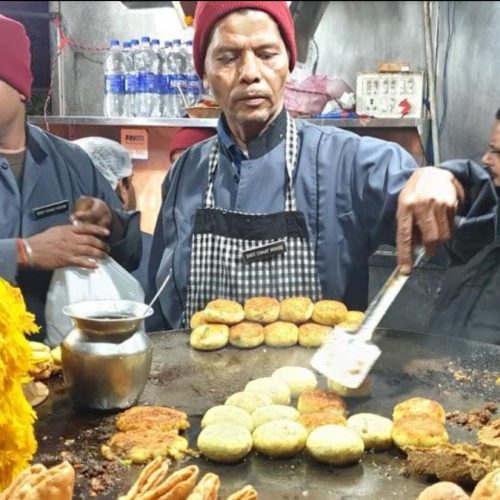 4. MUBEEN'S
If you're in a mood to indulge after stops one, two and three, Azhar recommends Mubeen's, located opposite Minara Masjid. Before you walk in and grab your table, don't forget to catch a glimpse of the tandoor master flipping freshly cooked kulchas from the tandoor with great panache as the wait staff stand around to grab their table's order.
Mubeen's is particularly famous for three things nehari with kulche and pasanda. While the portion sizes may be misleading – he recommends going there with a hearty appetite because the Nehari is not for the light hearted!
Address : Opposite Ek Minara Masjid, Akbari Gate, Chowk, Lucknow, Uttar Pradesh 226003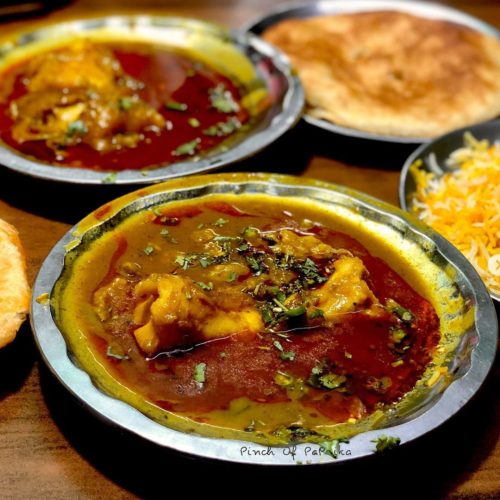 5. RADHELAL PARAMPARA MITHAI
You can't leave the chowk without eating something sweet! As ironic as it may sound – don't go to Radhelal for the typical sweets that are on display but go to them for two very specific treats – the kali gajar halwa available during the winters in Lucknow and the malai gilori also known as malai paan (owing to its shape) which is made with malai and stuffed with dry fruits and misri (rock sugar).
enthu tip – We recommend calling up the store if you're going in for your fix of kali gajar halwa as it is made in smaller batches.
Address : NH30, Vikrant Khand 3, Vikrant Khand, Gomti Nagar, Lucknow, Uttar Pradesh 226010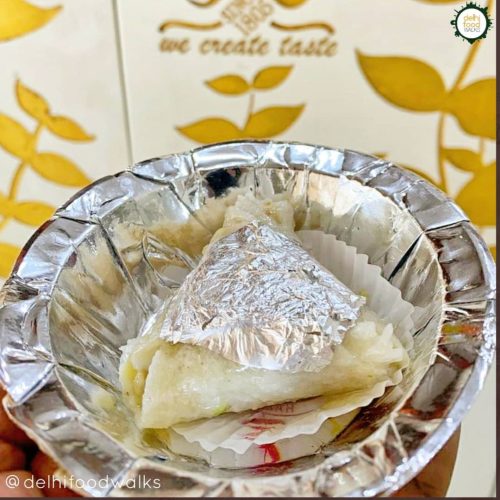 End this trail with a juicy paan from Azhar miyan's shop and if you haven't read all about his shop yet here's where you can!