Understanding the workings of a fast-food or QSR restaurant is a no-brainer in the modern times. Who would've thought about that in pre-liberalisation India? Here's the story of Nirula's, a brand that designed the change in India.
It's a sweltering Sunday afternoon in the month of June when I first enter Nirula's, a Delhi establishment that is older than I am. It's 2023 and I have eaten at some of the most popular international fast-food brands in the country, and yet, I am excited to eat at this place that revolutionised Delhi's eating-out culture 46 years ago.
At the Connaught Place outlet there's an L-shaped counter, the right side of which is dedicated to ice-creams; on the left a staircase goes towards the mezzanine floor with tables, occupied by a group of middle-aged people, a young couple, and a family with kids and grandparents. The restaurant is partially self-service. You place your order at the counter, pay for it, and grab a table while the server brings it to you.
As I dig into mine – Chatpata Aloo burger and Capsicum-Onion-Mushroom pizza – the little boy on the table next to mine deep-dives into his tall glass of hot chocolate fudge, or HCF as the old-timers love to call it. HCF is one of Nirula's oldest offerings – three scoops of vanilla ice-cream with a generous drizzle of chocolate sauce on top, further topped with chopped nuts. This is a dessert that has kept kids as well as adults hooked for multiple generations now; it is served in a beer mug with a long spoon, making it even more attractive.
"HCF along with sundaes was a favourite during exam results," says Sarovar Zaidi, an associate professor at Jindal School of Art & Architecture who grew up celebrating her birthdays at Nirula's. "The kids had to only show their report cards at Nirula's and get a free treat."
The offer was introduced as a way to incentivise the hard work that children were putting into their studies. "Those who received 90 per cent and above (or A grade) were treated to a free sundae," says Lalit Nirula, the second-generation owner of the brand that gave Delhi its very first fast-food chain and ice-cream parlour, more than a decade before McDonald's made an entry into the Indian market. "All they had to do was show their report cards and get it stamped. At one point we were giving away 20,000 free sundaes in one season," he adds.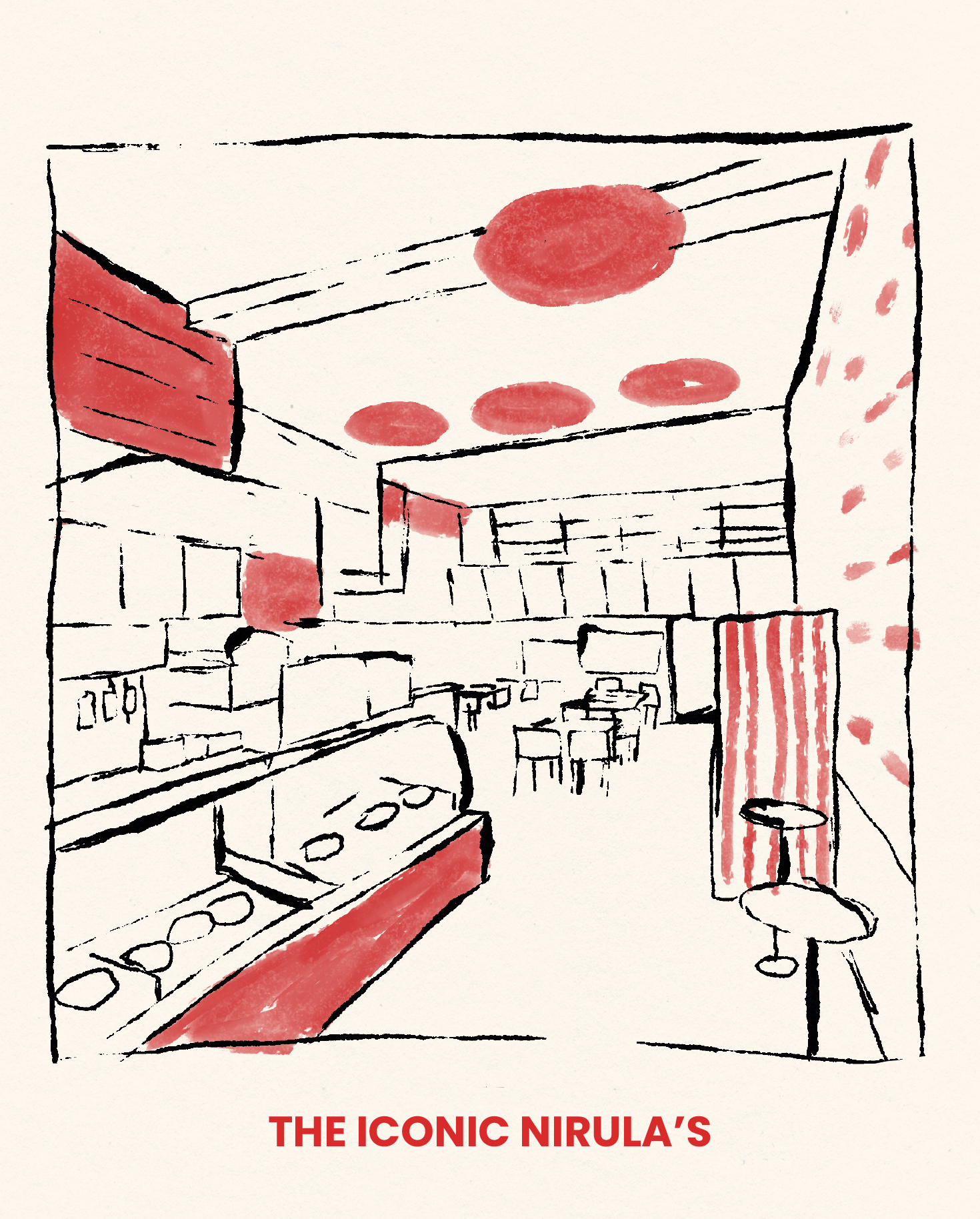 The Nirula family has long been restaurant industry pioneers in India. Their first venture Hotel India in Connaught Place was started by brothers Lakshmi Chand and Madan Gopal Nirula in the 1930s. Its restaurant Corner House, started in 1942, was known for live bands, cabarets, flamenco performances, and magic shows. Unfortunately, the hotel and the restaurant shut down during Partition and the business stayed affected by the closure for a while after that.
In the 1950s, Nirula's opened Delhi's first modern single-line cafeteria called Potpourri – a place where people could walk with a tray along the counter, picking food from it – as well as India's first Chinese restaurant owned by an Indian. "Before Chinese Room [opened] there were Chinese restaurants, but they were all owned by the Chinese," Mr. Nirula tells me.
Chinese Room was a fully carpeted restaurant with wide tables to accommodate its pre-plated dishes. The restaurant, which included a Laughing Buddha statue, was designed by the Mumbai-based artist and film art director M.R. Acharekar who had also won multiple Filmfare awards for his work with Raj Kapoor (Jis Desh Mein Ganga Behti Hai) and Guru Dutt (Kaagaz Ke Phool). The Chinese design inputs came from one Mr. Edwin Chan.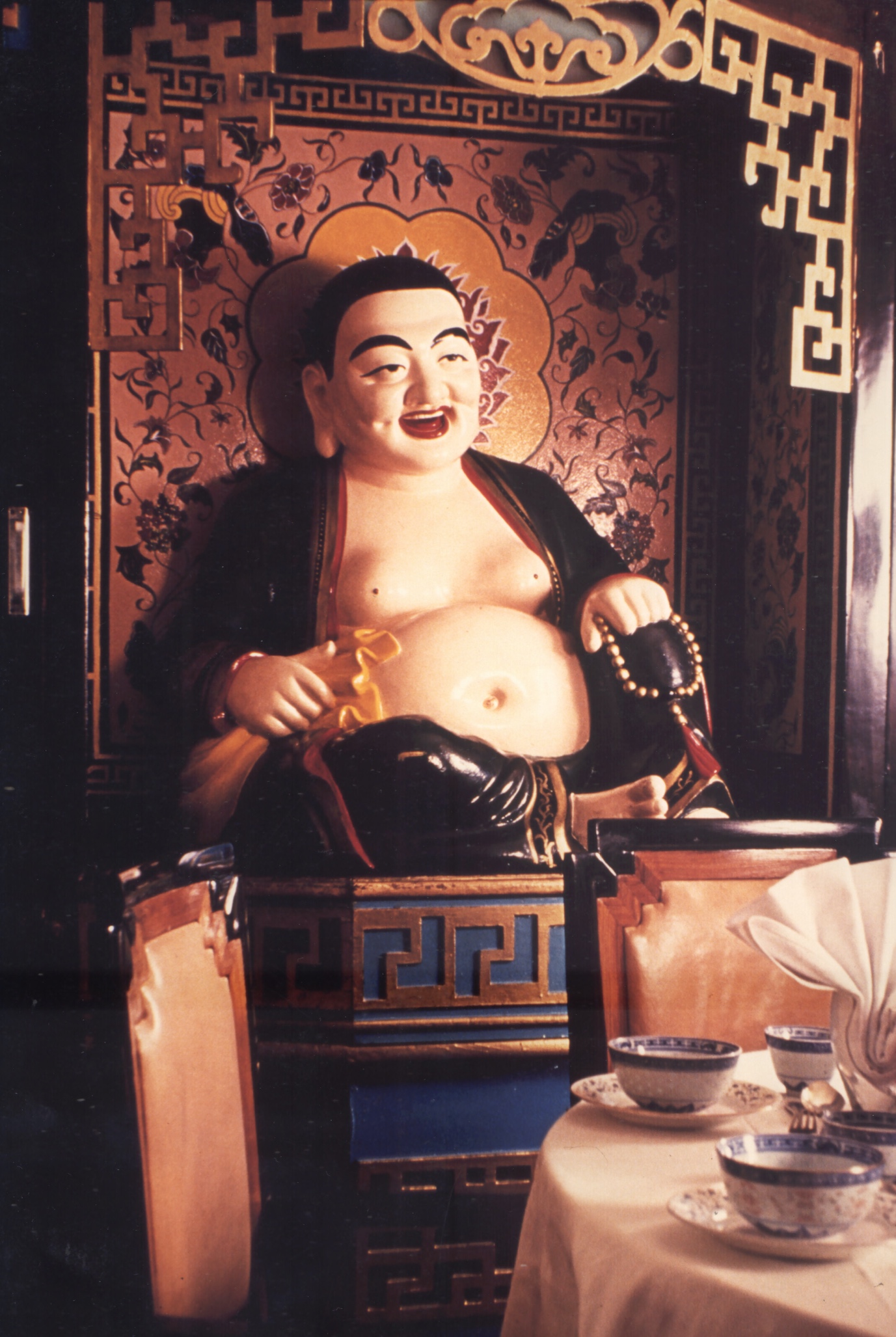 In the 1960s another speciality restaurant called Gufa – also designed by Acharekar – inspired from the caves of Ajanta and Ellora opened. It had moulded statues, uniformed waiters, and chairs with high backs, eack designed like a peacock. This was probably the first fine-dining, air-conditioned restaurant serving Indian food in sterling silver thalis.
"People didn't go out for desi khana back then," says Mr. Nirula. "They went out for Chinese or western food or mixed grills. So Gufa never really did well." Next to Gufa was another restaurant called La Boheme, specialising in Austrian-Hungarian food and five kinds of coffee including French Press, Turkish coffee, and affogato. "The restaurant had an abstract mural of wood pieces on different levels, and each table had a light with a switch," says Mr. Nirula as he jogs his memory to explain La Boheme's design elements. "There was no other light in the restaurant so if the guests wanted some privacy, they could just switch the light off." This was also the first restaurant to opt for recorded music as opposed to live bands, a norm back then. La Boheme became a meet-up place for those with an artistic bent.
Both Gufa and La Boheme ran for nine years, but there was a cultural shift in the late 1960s-1970s. People were now going out to eat either Chinese or Indian food. It was at this point that the space vacated by La Boheme became Nirula's, and the beginning of India's first fast-food restaurant. Nirula's started with serving coffee, mutton crumb chops, and chicken and vegetable patties from the bakery, and dosa and uttapam were introduced eventually. The restaurant only had standing tables, encouraging a table-sharing concept, a novel idea back then. "While it was done to maximize customer potential, it ended up making Nirula's a democratic place where a maharaja and a driver would eat standing next to each other," says the octogenarian.
In 1977, once the second generation took command, Nirula's made a shift to being a fast-food restaurant. Cousins Lalit and Deepak Nirula, both graduates from Cornell University, introduced three sections – an ice-cream parlour serving 21 flavours, a Hot Shoppe with America's three favourite fast-food items – burger, pizza and hot dog – and a pastry shop. The shiny 30-seater had a low roof, exposed air-conditioning ducts – a USP that's still intact across all outlets – and laminated tables. An article published in The New York Times in 1978, right after Nirula's opened in its new avatar, mentions the rock music on tapes (played at the restaurant), an American roll-a-grill in an open kitchen (to heat and turn the hot dogs), and a digital display board that indicated which orders were ready; these were all new concepts for Indian diners. Watching your food being cooked became one of the most exciting aspects of eating at Nirula's.
For Nirula's ice-cream parlour, design inspiration came from Baskin-Robbins, using similar chocolate- and pink-coloured polka dots. A food technologist from the National Dairy Research Institute in Karnal was brought in, and the brand launched with 21 flavours along with American-style shakes and sundaes. "Twenty-one flavours because it was 21-derful," smiles Mr. Nirula. The dishes had innovative names – Big Boy burger (mutton burger), Ginger Rogers (ginger ice-cream named after the popular American actress), and Hot Chocolate Fudge, which became popular as an abbreviation: HCF.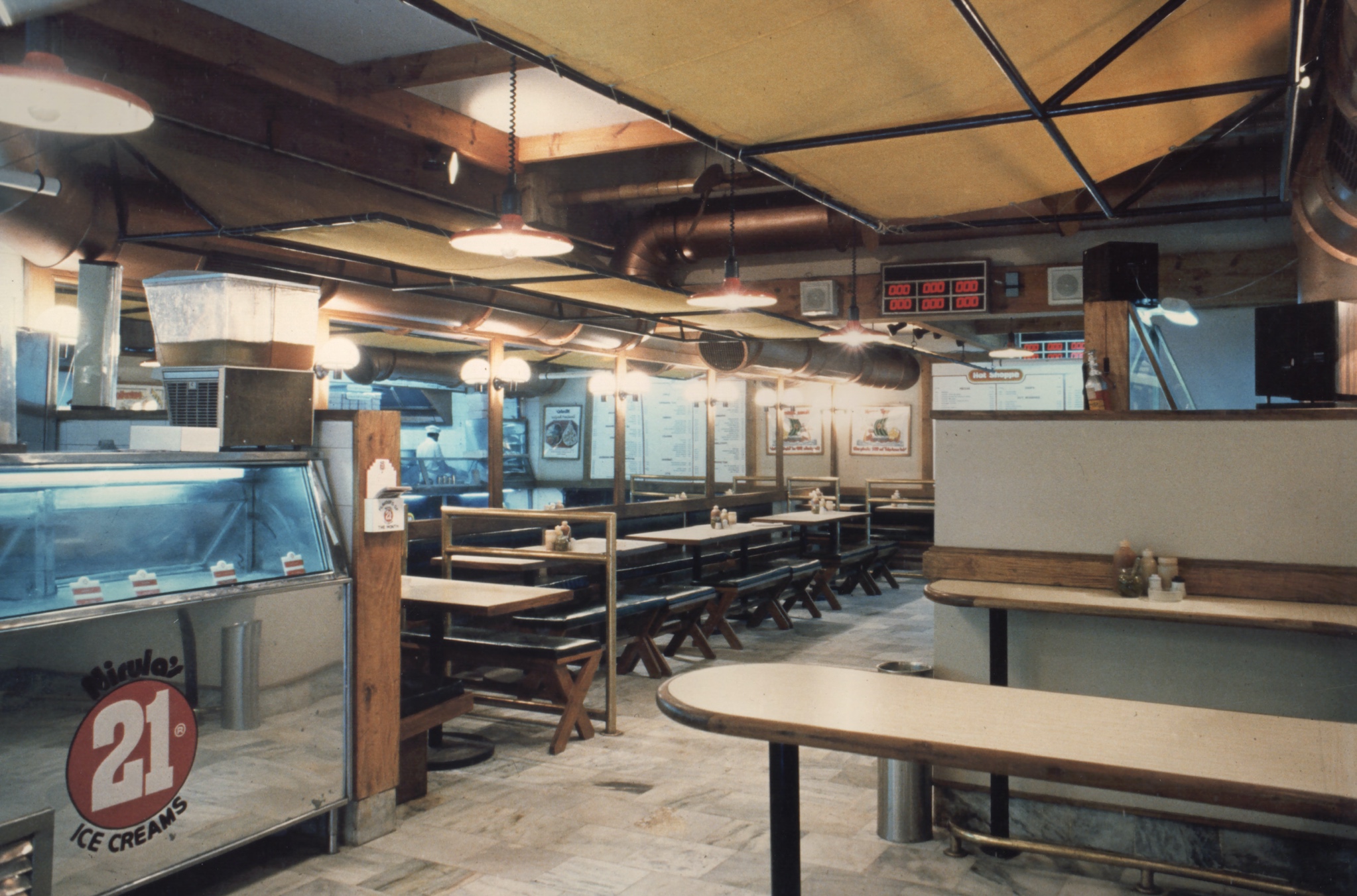 It was pre-liberalisation India and dining out was still a luxury. People went out for either what was then casually put under the Continental category, or for Chinese food. Dhaba culture had erupted post-Partition, and restaurants like Moti Mahal had created a space for middle-income families. Nirula's couldn't have presumed how people would respond to fast-food – pizza was still an unheard-of dish, and burgers available in Delhi at that time were all deep-fried, and rather unsavoury. But people made a beeline for it. The idea of an American style diner/fast-food restaurant was appealing to a younger, middle-class audience. Nirula's soon became a place for office-goers to grab a quick lunch, a hangout spot for college kids, and a date spot for young couples. "It was a new place for a new India," says Zaidi whose parents, an interreligious couple (who were not yet married then), would visit the restaurant every month after receiving their paycheck.
In 1980, Nirula's opened their first outlet outside of CP, in Vasant Vihar. The décor was a bit different here. Instead of chairs, there were benches. The Chanakya outlet that came later had cane chairs, and money plants hanging on the ceiling, to give it a coffee-shop look – a design that was later adapted by some of the well-known coffee shop chains in India. "Chanakya was the only cinema that used to screen Hollywood films back then, and the Nirula's outlet attached to it used to be choc-a-bloc with youngsters during show times," says ex-business journalist Sanjeev Verma.
For the India that was eating out on two extremes – street food in the bazaars, or dining in air-conditioned restaurants with uniformed waiters serving the food – Nirula's was a novel experience: to place your order at the counter, wait for the digital signboard to announce that it's ready, pick your tray of food up, and carry it to your table. "This was the first time I had seen people standing behind chairs, waiting for [seats] to be vacated at a restaurant," says food and travel writer Anubhuti Krishna who used to visit Nirula's Noida outlet in the late 80s-early 90s.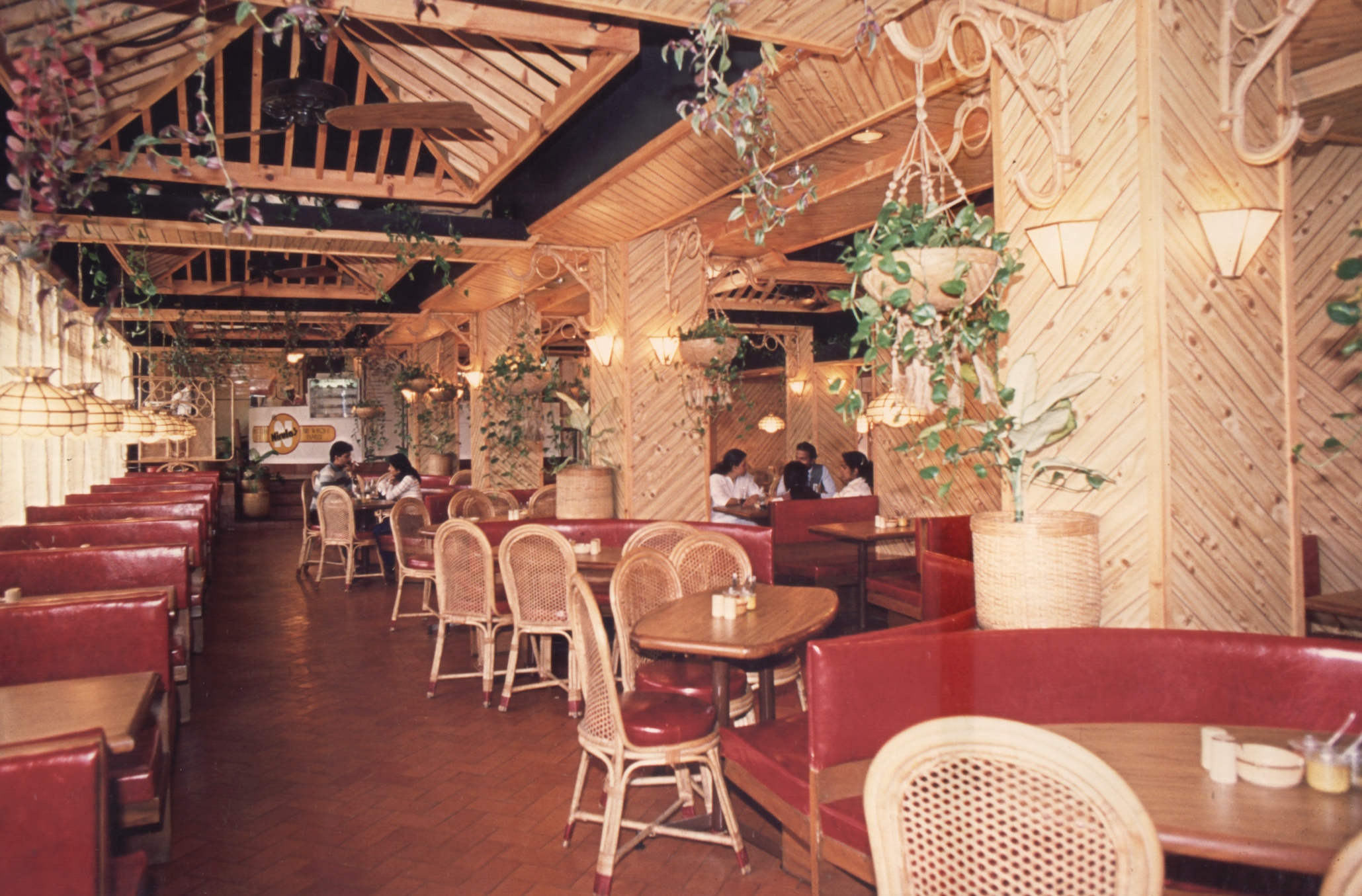 For an urban India that had recently come out of the shackles of colonialism after 200 years and was kicking to grow towards economic independence, Nirula's represented everything that was young, fast, quick, and yet, aspirational. It's been 46 years, Nirula's has survived competition from some of the biggest international fast-food and ice-cream brands, it has also survived massive liberalisation, as well as multiple changes of hands. And yet, it continues to pull customers in – some for its nostalgic value, and others for the strong association the brand has with Delhi.
Almost half a century later, it is evident that Nirula's continues to feed generations – as is evident from the family of three generations, dining on the table next to mine.

Check out the gold mine of never-seen-before images straight from Nirula's archives right here.