Team enthucutlet peeps into Chef Saransh's home kitchen to build a repository of design hacks, storage spaces, and multi-functional layout for you.
In mid-February this year, chef Saransh Goila of Goila Butter Chicken shared a reel captioned: Say hello to my new #Delishaas home kitchen, where not only new recipes but a ton of memories will be created.
It's not only the kitchen that was new. After several years of renting homes, Saransh had recently bought his first Mumbai apartment. Over several months, he and one of his best friends, Shweta Kaushik, converted the shell of the apartment into a stunning, warm, inviting home.
Shweta is an interior designer, and the founder of SKID, a design studio that has created some of the most recognisable restaurant interiors in the country, including Bayroute, Tresind, and Woodside Inn, Bandra.
How does a chef design his home kitchen? What does an interior designer who works extensively with restaurants consider essential in a home kitchen, both for functionality and for aesthetics? For our Food + Design season, enthucutlet asked Shweta and Saransh to walk us through the kitchen they have built together.
We were keen to know more about little design hacks, layout ideas, storage solutions, and practical elements that we could employ in our home kitchens.
In this guide, Shweta and Saransh share all of these and more.
Saransh and Shweta's kitchen design essentials
Making things accessible
Knives, a mug of tasting spoons, and other cooking tools, utensils, and implements – in Saransh's home kitchen, most of these are not inside cabinets and cupboards, but outside, visible, within arm's length. This design decision comes from Saransh's experience of working in and designing professional kitchens, both for Goila Butter Chicken and elsewhere.
Keeping things easily accessible helps not only with efficiency, and handiness, but also with safety – a rushed hand reaching into a drawer filled with kitchen knives or a mandoline can lead to a bleed – and with speed and convenience. Also, as Shweta points out, it prevents greasy handles on the drawers and cabinets. The idea is to have frequently used and functional tools visible, easily located, and beautifully organised.
Have an in-built unit for the rest
Shweta created an inbuilt unit that runs top-to bottom, with inbuilt appliances flush with the unit's surface. "This is a great way of hiding away everything and making [it all] look really nice and neat and clean," she says. Inside one of the cupboards is an enviable set of condiment drawers, labelled Indian, Italian, global and Asian. "When he chooses a cuisine, all he has to do is open this up, and everything is just there."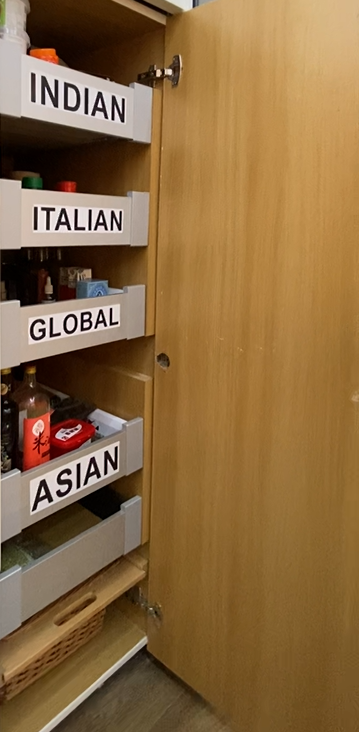 Wash up better with a double sink
"Another thing that can really change your life in a kitchen is having a double sink," says Shweta. It can be used to separate washing up in a bunch of ways: breakable / unbreakable, or dirty / soapy, for example. Above this double sink, Shweta has had a faucet with an extendable spout, which stretches the reach of the water flow, making washing up both larger vessels and the sink itself super easy and convenient.
Find inspiration in spice shelves
Most people decide what to cook on the basis of the lentils or vegetables they have in their kitchen. Saransh gets inspiration from his spice cabinet, and the meal pivots around the spice that draws his attention for a particular meal. So Saransh and Shweta created an eye-level stepped shelf, so that all his spice jars are immediately and simultaneously visible.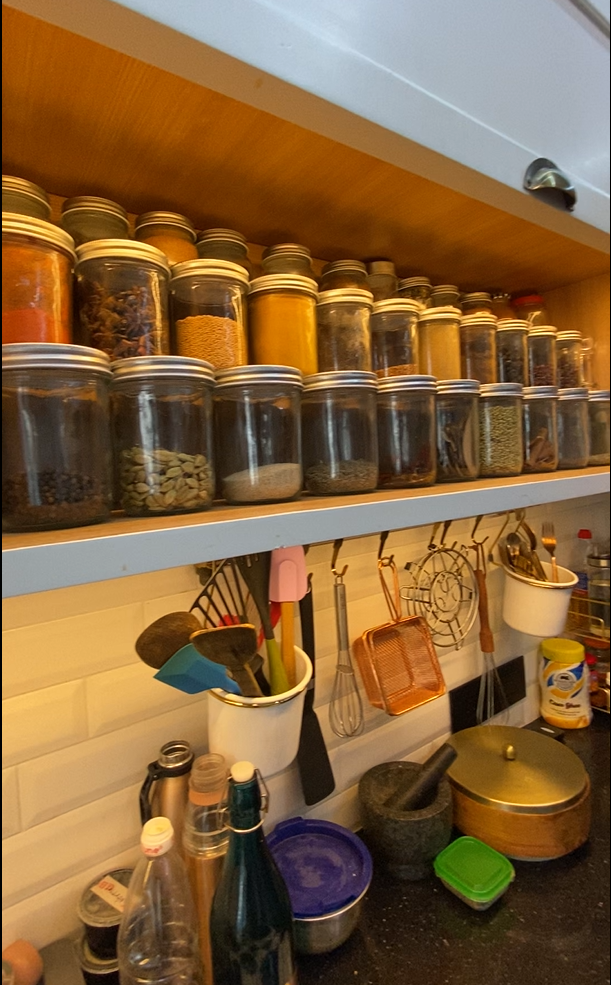 Cook around an island
The hob in Saransh's kitchen is set on an island counter in the middle of the kitchen for 360-degree access. He feels that if the stovetop is positioned – as it typically is in most kitchens – on a counter along the wall, it disrupts the cooking workflow. An island allows him to face his guests, friends and family and have a conversation with them while he is cooking – instead of facing a wall.