Chef Rahul Akerkar on opening a chef-driven restaurant in the 90s, disrupting the "baked dish, white sauce" monotony, and standing by your staff.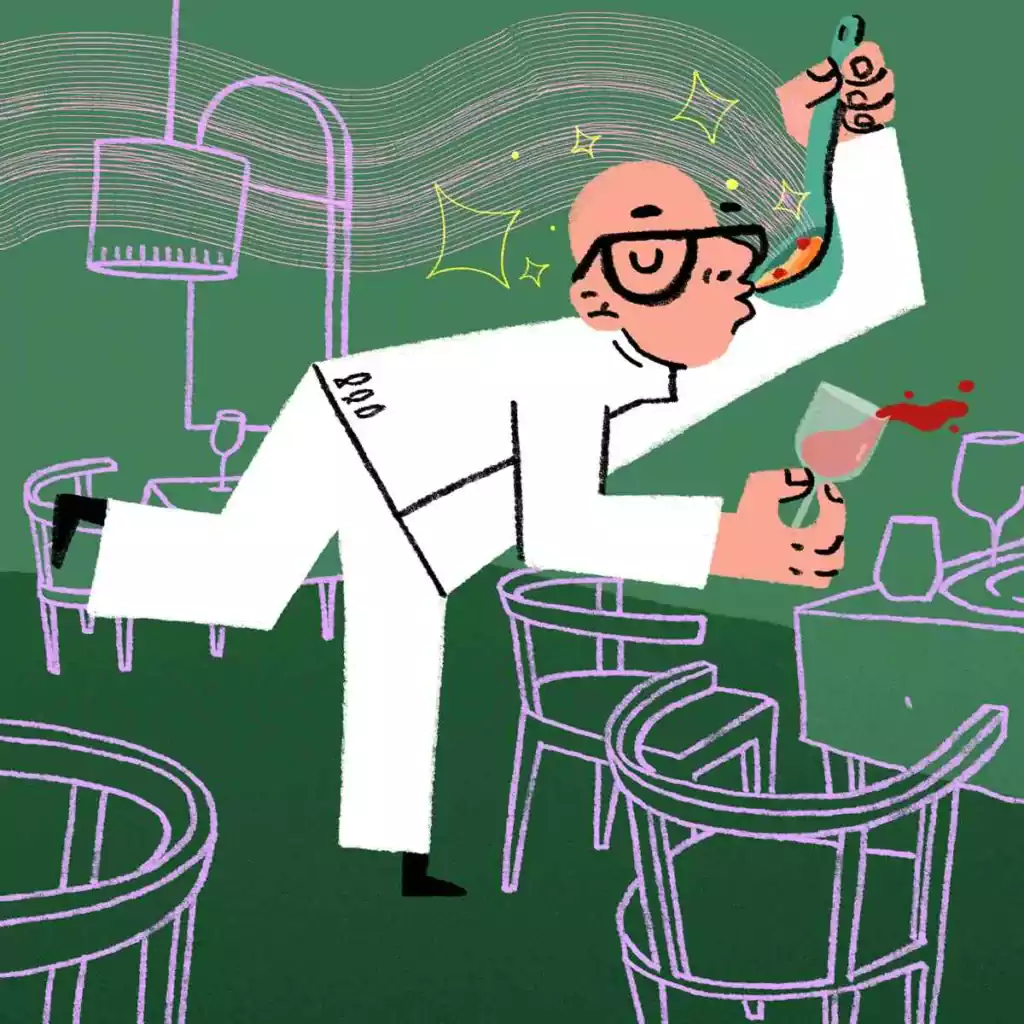 The dining scene in Mumbai in the 1990s? I'd say it was a time warp, and not a very delicious one either. There were the restaurants in five-star hotels, and you had some select top-of-the-pile places. For "Oriental", there was China Garden, for Indian, Khyber. There was nothing in the 'Western food' space of any calibre.
This is where we came in, first with Under The Over in 1992, then with Indigo in 1999.
I had been in the United States for a while — cooking, working, living. I started Under the Over at Kemp's Corner in 1992, with a "cooking global, eating local" approach. We did everything. We made pizzas, we did Texas-style barbeque chicken with cornbread, we did blackened fish and black-eyed beans. We did a little bit of Tex Mex, including nachos. (The chips were made by a Gujarati lady using coarse makkai ka atta; they were very tasty!) We made a chicken dijonnaise – a chicken roulade with duxelle mushrooms, bacon bits, and mustard cream sauce – which people still talk about. Our flavours were strong, surprising, and robust, which worked well. We hired college kids from St. Xavier's, both as waiters, and to work in the kitchen. These were people who could hold a conversation and laugh and joke with our guests.
However, the food at UTO was straightforward. There was no play, it was not so creative. When the lease there came to an end, we did some catering, and then we moved to Bangalore. Over the two years I spent there, I felt I was falling into a rut. I wanted to get out of it, and revamp the way I approached food. I had gotten tired of being complacent. I wanted to take it a few notches up.
The creativity that I was seeking? It came with Indigo. Was it easy? Obviously not.
A great restaurant needs a great space – not a swanky place, but a setting with gravitas. For Indigo, I wanted a space like that. For a long time, we looked and waited, and waited and looked, but we just couldn't find a place in Mumbai. The locations we found were attached to courts, or the landlords were in trouble, or they wanted only cash. We couldn't find a property where the title was clean. We realised then that if we didn't find a place, we couldn't keep looking ad nauseum.
Around then, I left for the US for a family wedding, and thought about opening a restaurant in the States – but I got cold feet.
Malini, my wife and partner, had come back to Mumbai after the wedding. I stayed on and worked at Union Square Cafe with Michael Romano for some time, trying to get into the psyche of working in restaurants again.
One day, Malini called me out of the blue. She had just found a Colaba spot – old school, characteristic, unforgettable – the space that would become synonymous with Indigo years later. When I picked up the phone, she simply said, "Come home", and I knew our job had begun.

Indigo was the first chef-driven restaurant that opened in Mumbai. The dishes were well thought out and fresh. The flavours were new. We had lobster bisque, cold carrot and orange soup, grilled tiger prawns, tamarind- and cumin-marinated tandoor-roasted chicken, and pink peppercorn-crusted duck.
I draw influences from many cuisines and traditions, so my food is not straight-ahead vanilla. Growing up with mixed parentage in Bombay, an American mother and a Maharashtrian father, my taste buds were always at play. At Indigo, we played with flavour. I started incorporating a few Maharashtrian tastes into some of the food. These dishes were not "authentic" as some say, but then Indigo's food wasn't supposed to be aspirational, nor copycat. This was my food – so it was authentic to Indigo, and authentic to its chef, me.
One day, walking around Indigo's dining room, I stopped to chat with a guest, and he said, "I can't put my finger on the food; it's not French, Italian, or German. It's just good food, cooked well." Indeed, that is exactly what Indigo was.
Western food that existed in the city then was boring, it was typical "baked dish, white sauce", or club sandwiches, and lobster thermidor. There was no one to challenge the status quo. This food came from complacency, a lack of imagination. We came along and did Western food that was true to taste, to flavour.

Fresh sourcing was hard in the 90s. There were no English vegetables. There was no Trikaya yet. Even getting basil or broccoli was a big ordeal. Can you imagine that today? The great paucity of produce was challenging.
So, we got seeds from the US for herbs and grew them. We grew sage and basil in our apartment building's garden. I made a deal with the maali, and what were once decorative bushes became a herb nursery. Friends sent us produce from their own gardens when they had some. We didn't use canned or tinned juices (which were the norm then), but freshly pulped fruits. We went out of our way to source things from all over. As far as possible, we tried to get items that were fresh and locavore. We were one of the first restaurants to do raw oysters (from Cochin), for example. We got quail and duck from Gayatri Farms in Delhi. It took work to get people used to these dishes. Our steak tartare, for instance, didn't move at all early on. We brought it back on the menu several years later, and then it did sell.
Did I think this was risky? I never did. I was too naive to think about failure then. We spent an amount of money on Indigo that was considered madness back then! We imported equipment, and we put flavours out that no one had known before. We weren't playing it safe. But it was The Wild Wild West for restaurants back then. Literally everything was new.

Other independent restaurants at the time ran with a seth sitting at a galla counter. Bills were handwritten and doctored. It was a very undeveloped industry, unknown to banks and corporate finance. System and process driven standalone restaurants did not exist. A restaurateur putting a deck together and trying to raise capital? No one had done it. Trying to get money even from banks was unheard of then. I was turned away from every bank, and then good-old Saraswat Co-operative Bank helped out. My parents put their flat as collateral.
We operated using systems, going through how a restaurant operates, looking at P&Ls and balance sheets. I don't come from a business background, so it was a huge learning experience for me too. Today, anyone can go to the market and raise venture capital. It's very easy – there are models, templates, and a history. Back in the day no one knew anything.

Indigo was a return to great attention to detail. It was about not compromising. It was about hospitality. We were very mindful of this. We were happy to comp dessert if a diner had a problem with a meal. If someone wanted an olive with their drink, or a taste of our risotto – we gave them a bowlful, and we didn't charge them. We paid attention to the dishes, but we also went out of our way to accommodate guests.
It was a lot of teaching and explaining as we went. When people were reluctant to try a dish, we would say, "If you don't like it, don't eat it. We'll make you something else." Then we'd have a conversation about the dish and talk about where it came from.
Wine started becoming available when we opened, and Sanjay Menon (of Sonarys and Sansula) was the vanguard for it. When he tried to sell me wine, I told him, "I'm just glad you're here with it." Sanjay set up the wine program, after which we won the Wine Spectator Award of Excellence for ten years.
Indigo was fine European dining, and it needed to be a joyful space at the same time. This was the first time a restaurant really embraced its service staff too and gave them a sense of ownership and pride in what they were doing. I would side with my staff, listen to what they had to say. Things were done democratically, diplomatically. The staff came up with ideas and we would implement them.
I would tell the team, "It's okay to say no to customers, and it's also okay to laugh and joke with them. Engage and interact, but do not entirely submit to servitude." Diners then were used to snapping their fingers and saying "ey boss". I was trying to teach people the difference between service and subservience.
A restaurant like Indigo was nothing more than lifting any decent restaurant in big-city America or Europe and putting it here. We were not doing anything differently other than engaging with the customer. We were breaking the barrier between diner and service staff. It made the industry more accessible and transparent.

This was around the time when people started realising it was sexy and noble to be a chef. I wasn't a bawarchi in the kitchen, I could hold a conversation. If the guests wanted something, I could go back and make it.
We'd do specials every day, in appetisers, main course, and dessert. Back then no one was doing that. There was a lot of flux on the menu, no stagnation. People came in and said they've eaten here every day, so we'd ask, "What can we make for you, what would you like to eat?" And if it was a busy night, we would also say, "We're just trying to get regular stuff out, so we can't make a new dish."
When it started, finance people, industrialists, and bankers came to the restaurant. Indigo was all the buzz, literally the 'phenom' restaurant then. We got constant coverage. Then all sorts of people started dining with us. It became a must-stop for people passing through Mumbai. When we got to legend status, we served Clinton, The Rolling Stones, Angelina Jolie and Brad Pitt, Anjelica Huston. The day David Cameron came to eat with us, his food got delayed a bit. He called our manager over to his table. The manager, of course, knew he was serving the PM; even so, he said, "The kitchen is a little backed up right now, your food will be out momentarily." It was typical of Indigo – understated, a place where we treated everyone the same.

A restaurant isn't just about food. It's a people and perception management gig. As people's tastes change, their desires change. Back then, we weren't just observers of change but creators of it. For example, at Under the Over, someone came to me, said he was from Hong Kong, and then said "This cream sauce is broken". I had to tell him, "It is not cream, sir, it's ricotta. Try it!" People then would tell you they liked or didn't like something – but they couldn't tell you why. The vocabulary has since changed, people are exposed a lot more. Diners now can tell when the thyme is too much.
Restaurants are also places where customers are shaped, where they evolve and change. And because I've been doing it for years, it doesn't mean I get complacent. Nor am I – by any means – done. It's the restaurant business, there's always something new and entirely mad to do. It's the restaurant business. It never ends.

We hope you liked this enthuOriginal about how 
Chef Rahul Akerkar explains the Indigo Restaurant Journey in Mumbai
 brought to you by enthucutlet.com