A lot of the quick and convenient ways in which we buy and consume food today – supermarkets, QSRs, catering and deliveries – were set into motion over 30 years ago by a certain decisive Mr. Singh.
On the 24th of July 1991, India's then finance minister, Dr. Manmohan Singh presented his budget. The way we ate, shopped for food, and ran food businesses changed in ways we could not have imagined or predicted then. Here are three stories of how our purchasing, plates, and palates changed.
McD's brought in more than burgers
1996 saw one of the biggest events in the 'food scene' in India. McDonald's, the holy grail of fast food (and mothership of modern Indian QSRs) finally opened its first outlet in the country. The lines were ridiculously long. People waited for hours to be served.
It was the first time in its history that a McDonald's outlet was serving neither beef nor pork. The brand revamped their menu to serve mutton, chicken, and veg burgers; fries, fried apple pies (perhaps one of the best things they have ever made), and in beverages – hot milk!
McD's took India by storm. Other brands appeared too. Domino's Pizza, which also opened in 1996 and their "30 minutes nahin toh free" had Indians praying that deliveries took 31 minutes. Domino's adapted to the Indian markets as well. They had, and still have, purely vegetarian outlets, something they would never do outside India.
Around this same time, Pizza Hut had made a damp appearance, but Smokin Joe's had them on the mat. Local brands like Wimpy's and Nirula's had a niche market in Delhi. In Mumbai, Open House had tried and died. But the QSR chain seemed to be doomed, until McDonald's burst onto the Indian scene. They not only amended their menus but (possibly for the first time ever) offered home delivery. India's ginormous market left them devising new ways to grab Indian eyeballs and wallets. Soon, we had a resurgence in brands like KFC, which had previously opened and shut due to teething troubles in Bangalore. KFC spread its wings, and alongside them came up a whole slew of Indian QSRs.
By the 2000s, it was clear – young marketing and business professionals were walking around with disposable incomes and a desire to eat something new. And so, the economic boom of the 1990s and 2000s saw a huge rise in Indian QSRs. They were all set to emulate the McDonald's model. Faasos started out selling Kolkata rolls; today it is the biggest Indian QSR with over 500 outlets in 10 countries. Jumbo King brought the QSR formula to the Mumbai vada pav and made it a household name. Subway, Starbucks, Burger King, Dunkin' Donuts, and others today face stiff competition from Barista, Café Coffee Day, WOW Momo, Smokin' Joe's, and dozens of Indian QSRs. And all of this happened because McDonald's came to India. They changed us as much as we changed them.

Supermarkets had us eating with our eyes
Along with the liberalisation came access to international programming and the desire for international conveniences.
One of the most sought after of these was the 'supermarket'. A dream store where all your needs were under a single roof. (India had already experimented with these 25 years prior, with the opening of Super Bazar in Delhi in 1966. Sadly, this six-storey shop shut down in 2002.)
It was in the 90s that Tier 1 and Tier 2 cities saw the rise of the supermarket or "super shoppee" as it came to be known. G-Mart changed the game in 1993. Soon a whole slew of smarter bigger operators with deeper pockets jumped into the fray. Today, Food Mall, Food Bazaar, Big Bazar, D Mart, More, Spencer's, and Star Market/Bazaar have all completely changed the way we shop.
With deep pockets, these shops can buy and source to share profitability with consumers in ways the standalone retail stores just could not do. And they quickly got onto the delivery model, which led to the death of small kirana stores in many parts of urban India. After a successful run in the major metros, these chains opened in Tier 2 and Tier 3 cities and brought a taste of the big city with them. There is now a food superstore for every kind of budget from Nature's Basket to D Mart. These chains have also introduced flavours and tastes to the Indian palate, making what was hitherto the stuff of Hollywood movies and magazines – stuff like prosciutto and prosecco – readily available to the consumers in India.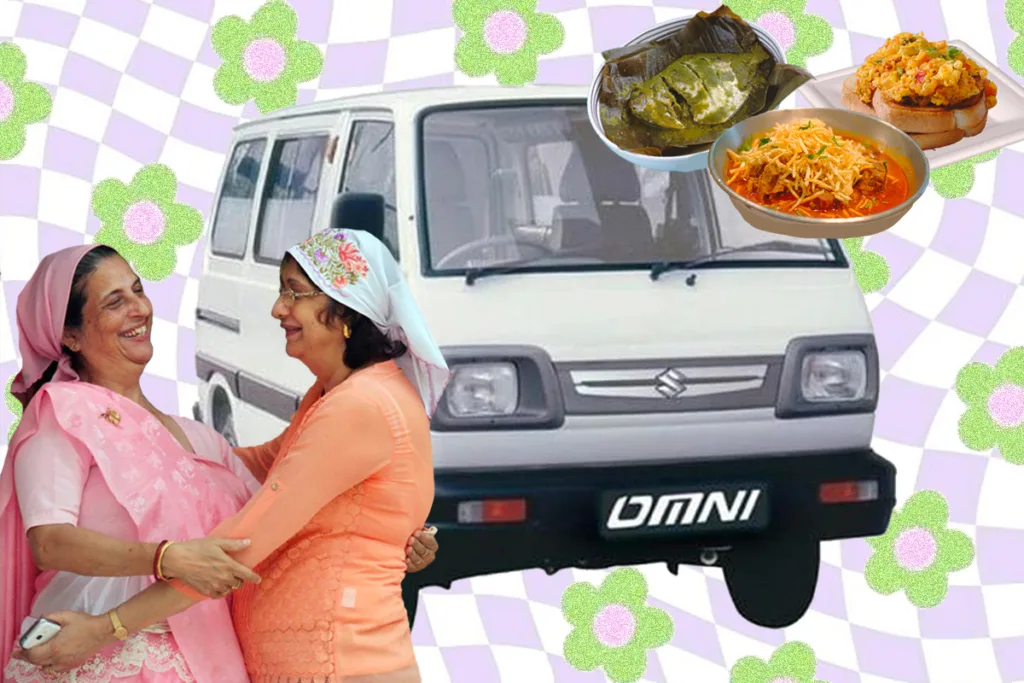 The Maruti Suzuki van became my buffet on wheels
My personal story of the 90s and food revolution revolves around the humble Maruti Suzuki Van. From the dreary drudgery of the Ambassador and the Padmini Fiat, Indians were finally rescued by Maruti Suzuki and its models of cars on offer in the late 80s.
We finally had cars with good engineering, and superb mileage, at affordable prices. This was the beginning of the automobile revolution in India. My father booked a Maruti van for our large family of five. He felt the Maruti 800 was too cramped and had no luggage space worth discussing. The van, meanwhile, was roomy (virtually a box on wheels), maneuverable, fuel efficient, extremely reliable, and a joy to drive.
When he bought it, he had no idea of how much of a commercial success this van would become. In an age of groaning tempos and trucks, this little nippy van with its rear-seat folding up against the front seats became the Number One utility vehicle in India.
My family had (and has) a small catering business. This van became our little buffet on wheels. We were soon loading up food, cutlery, crockery, chafing dishes, and all the paraphernalia for a party of 50 to 200 people in the van, and delivering it across Mumbai. We no longer needed a fleet of taxis, we no longer had to worry about creating convoys and fretting about the whereabouts of our equipment, it was all safely packed into the back of our van. (Our family has used three vans since, and clocked over one lakh kilometers in each of them.)
Like us, thousands of entrepreneurs realised this. Equipped with their own little van, food entrepreneurs were now independent, they had their own personal vehicles which they could tailor to their needs. From food delivery, to grocery deliveries, to hardware and machinery, to even delivering children to schools, the Maruti van has seen it all.
The Maruti van to me was one of the greatest success stories in food in our country. One of my friends had his van refrigerated to deliver cakes across the city in the harshest summers. Another used his to round up veggies, meat, fish and eggs for a personalised home delivery service way ahead of its time. My chicken wholesaler had one; my masala machine repair guy had one; my local cold drinks wholesaler had one; and they all swore by them.
Thanks to the van, there are now a series of small tempos made by Tata and Mahindra. These have dented the Maruti van's market, but not by much. I recall with great pride driving up to catering locations and watching goggle-eyed clients look in wonder at the seemingly unending materials coming out of the van. From it, they saw us turn out a buffet for 200 people, in 20 minutes flat.

We hope you liked this enthuOriginal about Kurush Dalal explaining the fast food movement in the 90s,
 brought to you by enthucutlet.com