A citywide icon, at the risk of decline.
To someone not from Aligarh, Aligarh ki matri is not too special to look at: it looks like a giant cookie, the size of a quarter plate. But when you bite into it, it arguably puts any French biscuit to shame. It is sweet and crunchy, with a subtle taste of spices, especially elaichi, which lends it aroma and taste. The matri is usually eaten with butter slathered on top, and as a child, I remember adults around me eating it with malai. It is a perfect winter breakfast, ideally eaten with a cup of hot chai.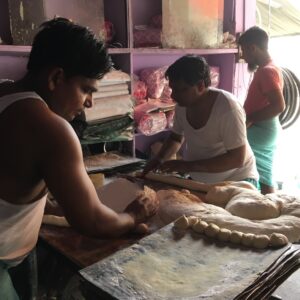 While I wasn't able to find definite answers to who invented Aligarh ki matri, the oldest kaarigar or craftsman that other kaarigars referred to, is Latif Khan. Khan was born in the late 1890s in Pathano ki Basti, Gorakhpur, where he was employed by the British-Indian military, and where he made a dish called 'double rotis' – which the British preferred to eat with qorma for an early lunch. When he moved to Aligarh, Khan settled in a neighbourhood called Sarai Hakim, and established a tandoor in his house. From here, Khan started his business and soon, his creations became so beloved that people would bring huge baskets and fill them to the brim to take with them, after they ate some on the spot.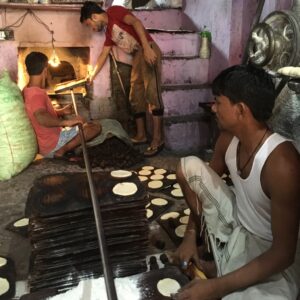 While the Aligarh ki matri may appear humble, making it is no simple affair: a kaarigar spends more than an hour kneading the dough, another hour tossing it, three hours cutting it into individual pieces, and about four hours rolling each into a separate matri. After this, the matri is baked in a large tandoor, where it it baked for for 16 hours.
Each kaarigar I spoke to said that they had the recipe written down on a piece of paper, even though the piece of paper was never produced. These recipes were handed down by an ustaad, who, in most cases, was Latif Khan. Making matris was Khan's "baap-dada ka kaam" says 62-year-old Pervez Alam, his former pupil. Today, Alam works at Taj Bakery, in Upar Kot, a ten-minute walk from Sarai Hakim. In the late 1960s, when Alam started his apprenticeship with Khan, kaarigars added elaichi, nutmeg, khameer (yeast), and khus (poppy seeds), which many now cannot afford.
At Azad Bakery, which is the most popular matri shop in Aligarh today, the owner Mohammad Bashir said that they use maida, ghee, khoya, coconut powder, and sugar to make their matri. For their Special Matri that is priced at Rs. 60 (or 20 rupees more than the regular matri), Bashir said that they continue to add elaichi and khus. They also add a traditional masala, which is said to be healing, and which is connected to the healer and popular historical figure of pan-Islamic folklore, Luqman Al-Hakim, or 'Luqman the Wise'.
Like biscuits, matris can last long if kept in a cool, dry place, according to Mohammed Shaffo, Khan's grandson and erstwhile student, who now runs Khan's matri shop. But even as the matri remains iconic in Aligarh, the kaarigars' wages are less than Rs. 400 a month, less than what a bricklayer earns for an eight-hour workday, says Alam. Most kaarigars are older men in their fifties, and the profession remains unsought after by young people from the families that practice it. In his five decades as a kaarigar, Alam's children have watched him return home tired, at odd hours of the night. "They don't see any reason to learn this work," he said. "Door bhaagte hai. They run away from it, instead."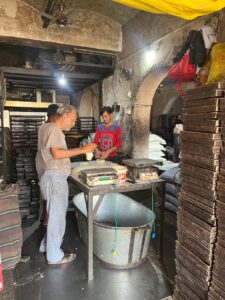 It is artisans and working classes that build cities, that define a place's culture, and leave a mark on the place they call home. Yet, the Indian state has failed to appreciate the contribution of artisans in the making of our country; relegating them instead to cultural idiosyncrasies, and remembering them only to parade in front of foreign dignitaries at whim.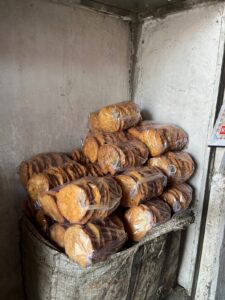 With these generations of kaarigars, the Aligarh ki matri is at the risk of disappearance and decline. And, like in other parts of India, this matri is unique to its city, and tells the story of the community of kaarigars that have kept it alive. At Taj Bakery, 28-year-old Mohammad Nizamuddin, its co-owner, said that he continued working as a kaarigar on his father's advice. He is quick to respond when asked if he will teach his children – "Nahi nahi, bilkul nahi," he said. "I will not teach them (the craft). Absolutely not."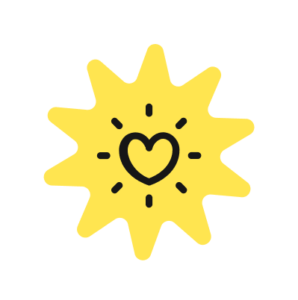 Meher's essay is part one of our two-part series – The Flame of Pre-Independence Bakeries. You can read part two, Mornings at Charminar's Munshi Naan by Yunus Yacob Lasania, on Hyderabad's Munshi Naan bakery where the recipe has remained unchanged since 1851.